Middle School Results
Brock Kappelmann - September 1, 2023 6:22 am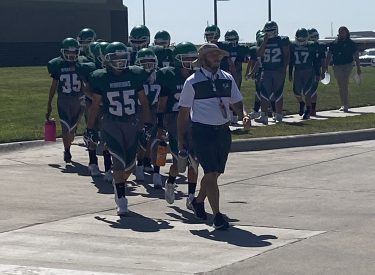 "Congratulations to the 7th and 8th Grade EMS Warriors Football teams, both teams earned shutout victories in their season opener against Dodge City Middle School.
The 7th grade team was led by Chris Marino and Chris Marino-Gonzalez as their double-headed dragon attack ran all over the field combining for nearly 300 yards and a plethora of touchdowns.  The Warriors offense could not be stopped and the Warriors Defense never let the Cardinals do anything they wanted, holding them to 0 points.
The 8th grade team also played inspired defense, and kept the Cardinals off of the scoreboard for the second time in one night.  The Warriors scored one touchdown on the ground and had a long TD run by Zayden Norez turned into a 30 yard first down after a penalty.  Landry Fitzgerald had another apparent touchdown fall just short of the goal line to end the first half.  The Warriors defense and special teams took the ball away from DCMS 3 times to help secure the win.
Both squads hope to carry that momentum into Week 2 as they travel to Garden City Kenneth Henderson.  The first game starts at 4:00 next Thursday.  Week 3 is back home vs Great Bend.  Come out to the games and help your Liberal Eisenhower Warriors remain undefeated and in first place in the MSWAC.
Last night 8th grade Volleyball faced off against the Guymon Tigers. B team fell to the Lady Tigers 22-25 in a hard fought match and 14-25 in the second. A Team battled it out the first match squeezing out the win 25-23 and in the second match Lady Warriors defeated the Lady Tigers 25-20
Nancy Hines