Middle School Results
Brock Kappelmann - August 30, 2023 5:46 am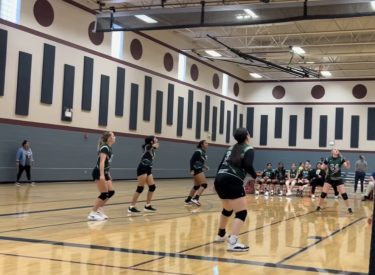 Nancy Hines
Last night the 8th grade A team Lady Warriors started off the season with a clean sweep! They faced off against Hugoton and Kepley and controlled the games with powerhouse serves winning in two matches 21-10 & 21-18 against Hugoton and 21-18 & 22-20 against Kepley. B team split the evening defeating Hugoton controlling the game with power serves 21-12 & 21-17. The Lady Warriors fell short 21-14 & 21-18.
Submitted by Coach Babinec and Coach Bennett
Tuesday night the Eisenhower Warrior 7th grade volleyball teams traveled to Hugoton taking on both Kepley Middle School and Hugoton.
The A team started the season building momentum taking early leads on Kepley with effective serving by Yarah Martinez and Jaylin Gonzalez. A late surge from Kepley saw them squeak by with an 18-21 victory. The Warriors responded in the second set propelled by a 5 point run with Stephanie Ortega on the serve. The Lady's won 21-14. In the final set, the Lady's again took control, only to allow a pesky Kepley squad to roar back to a 13-12 lead. The Warrior Lady"s held on for the rest of the game taking the match 15 -13.
The final game of the day was against the Hugoton Eagles. Strong service by the Eagles allowed them to build leads through the first set, Jaylin Gonzalez's consistency at the back allowed the Warriors to fight their way back. The Eagles took the first game 16-21. The Warriors played their hearts out in the second set only to fall short 20-22. Yarah Martinez and Aubrey Rivera each recorded an Ace throughout play.
The Eisenhower 7th grade volleyball B Team worked hard in their first two matches of the season. On Tuesday they faced off first against Kepley, and then against Hugoton. Ebony Figueroa and Everlee Colter allowed their teams to gain points successfully serving runs of 4 or more. While both overall matches resulted in losses. The girls were able to win one game against Hugoton, followed by very close second and third games.
Final scores against Kepley were 8-21 and 10-21. The B-team notched their first game win against Hugoton 21-19, then fell 11-21 and 11-15.
Both teams played quite well in getting ready for the season. Coach Babinec and Coach Bennett are proud of their efforts and look forward to a successful season.
The 2023 7th Grade Warriors: are Everlee Colter, Jacqueline Almaraz, Meyli Luis, Stephanie Ortega, Gracie Ontiveros, Summer Garrison, Jareymi Rodriguez, Aliana Reyes, Jaylin Gonzalez, Jimena Acosta, Katie Davis, Jackie Ramirez, Aubrey Rivera, Genesis Pacheo, Miia Enriquez, Yarah Martinez, Jaylei Adame and Ebony Figuroa.