Middle School Results
Brock Kappelmann - March 28, 2023 12:19 pm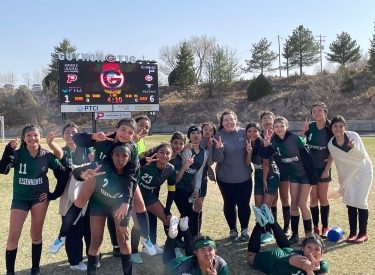 Coach Tiscareno –
Girls Soccer
Varsity won 7-2.
Evelin Tarango scored 4 goals. Yvanna Rivera scored 2 goals. Ashley Vizcarra had 1 goal. Overall a good game. The Apaches played aggressively and had possession of the ball for most of the game.
JV won 4-2.
Ariadne Ortega had 3 goals. Guadalupe Macias scored 1 goal. Jv did really well. It was a slow start but JV started connecting their passes and scoring goals.
Shelby Bennett
Eisenhower Girls Soccer has had a strong start to their 2023 season. Both Varsity and JV teams are currently undefeated after games against Dodge City Middle and Guymon.
On Thursday, March 23, 2023 the Lady Warriors opened their season facing off against Dodge City Middle School. Varsity dominated with a final score of 7-0. Emily Vazquez, Lilly Guy, and Defender Lily Santiago each scored along with an additional 4 goals by Dennise Garcia. JV fought hard for a 3-1 win, with goals scored by Angel Luna and Carmen Chaparro.
On Monday, March 27, 2023 the Lady Warriors continued their winning streak when both teams won against their Guymon opponents. Varsity overcame the cold and wind to command the game, with a final score of 6-1. With goals scored by Lilly Guy, Lily Santiago, Ashley Batista, and Emily Vazquez, the team kept up a stream of constant communication, strong passes, and excellent teamwork. JV also played hard and managed a 1-0 win. With a quick pass from Miranda Avila, Carmen Chaparro was able to score the only goal of the game.
Captains of both teams, Lily Santiago (V), Emily Vazquez (V), Angel Luna (JV), Sophia Ortuno (JV), and Jackie Gutierrez (JV), have shown strong leadership in both games as they directed and pushed their team to victory. Goalies Aileen Figueroa (V), Daisy Perez (JV), and Kayley Hernandez (JV) have commanded their space, allowing their teams to make quick decisions and smart plays across the field. The outcome of each and every game wouldn't be possible without strong support from teammates!
The Lady Warriors will continue their season when they face off against Kenneth Henderson on Thursday, March 30, 2023. Games will be played in Garden City at KH. Girls Varsity will kick off at 3:30pm, with JV following after at 4:45pm.