Middle School Results
Brock Kappelmann - February 1, 2023 1:37 pm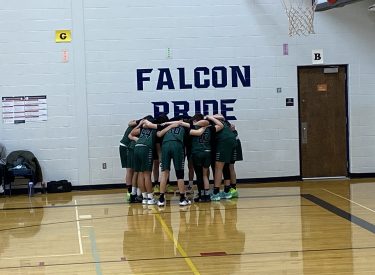 James Babinec
Tuesday the Eisenhower Warriors Boys 7th grade team traveled to Garden City for a rescheduled game against Kenneth Henderson.
The Falcons opened up the game hitting a quick three. Both teams then battled the rest of the first quarter tied at 11. As the Falcons connected with three 3
pointers in the first, the Warriors tightened up the defensive pressure at the perimeter. Eisenhower then took control of the tempo and began to pull away from the Falcons. The Warriors led 24 -16 at the half, The Warrior offense kicked into high gear outsourcing the Falcons 19 -6 the rest of the way. Final score had Eisenhower defeating Kenneth Henderson 43-22.
I really liked how the boys responded, especially after a tough loss on Saturday. On the offensive side we were more mobile and looking to position ourselves for the easy baskets. Ethan Olmstead did an incredible job penetrating the lane as well as spreading the ball around for wide open putbacks. Kaelob Alvarado had a great game too,not only scoring, but setting screens and positioning himself to help teammates get open shots. Defensively we're getting quicker at closing out and with the helpside.
Leading the Warriors attack included Ethan Olmstead, Kaelob Alvarado and Adrian Gonzales with 10 points each, Christopher Pino 4, Kale Miller 3, while Kye Morris, Bren Kappelmann, and Landry Frizgerald each added 2pts. Adrian pulled down 10 rebounds and Ethan recorded 6 assists,
The Warriors match up against Dodge Comanche Thursday, the rubber match with Hays / Great Bend on Saturday followed by a home game against cross town rival Seymour Rogers on Monday.
he 7B basketball boys took on Kenneth Henderson at Garden City last night. The Warriors played their best game of the season so far. The Warriors outplayed and out scored the Falcons in every quarter. The Warriors came away with a 37-18 victory over the Falcons.  Leading scorers were: Kadyn Gonzalez 16pts, Pierro Human, Manuel Rodriquez, Easton Martinez, Aadyn Miranda, and Alejandro Cazarez all had 4pts. Leading rebounder was Aadyn Miranda with 9 rebounds and Jesus Aguilera 6 rebounds.
Monday
7A from Coach Olvera – 
The Seymour Rogers 7th Grade Basketball A-team played this Monday against the Dodge City Comanches. The Apaches started off with great effort by playing well on both sides of the court. In the first and second quarter, the Comanches were running their offense well, so the Apaches tried different strategies to slow down the Comanches. After halftime, the Apaches came out playing more aggressive and played better defense. On the offensive side, they continued to try and score in an attempt to win the game. Unfortunately, the Comanches won the game 43-19. The Apaches continue to improve their basketball skills each and every game.