Middle School Results
Brock Kappelmann - January 10, 2023 6:26 am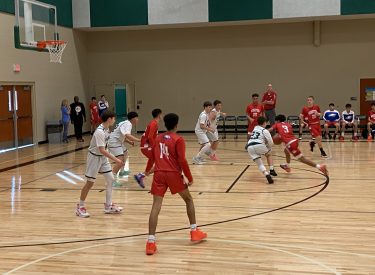 James Babinec
The Eisenhower Warrior Boys 7th grade team kicked off the 2023 Basketball season with a non conference game against the Hugoton Eagles Monday night.
The Boys started off the first half quite tentative allowing the Eagles to build a 20 to 4 halftime lead. After getting the initial first game nerves out of the way, the Warriors settled in and played evenly with Hugoton in the second half. Final score was 33 -16 in favor of the Eagles.
Turnovers and missed shots in the paint obviously would have been a difference in keeping the game a bit closer. The boys need to play more confidently and attack the basket on both sides of the court. We did have some spots in the second half where our defense stepped up and created scoring opportunities.
The Warriors were led by Ethan Olmstead with 6 points, Kale Miller 3, J'Kobe Contreras 3, Christopher Pino 2 and Adrian Gonzales also with 2. Kye Morris led the team with 4 rebounds while Landry Fritzgerald added 2 rebounds and 2 steals.
The Warriors open Conference play Thursday afternoon hosting Horace Good.
The 7th grade boys basketball B-team kicked off their season by playing Hugoton.  At the end of the first half the Warriors led 15-10. In the second half the Warriors took control of the game after Carter Rhine hit two 3's to pull the warriors away for victory. Leading scorers for the Warriors were Kadyn Gonzalez 17pts, Carter Rhine 8pts, and Manuel Rodriguez 4pts. Leading rebounder for the game was Aadyn Miranda 6 rebounds.
Trae Jordan