Middle School Results
Brock Kappelmann - November 18, 2022 6:58 am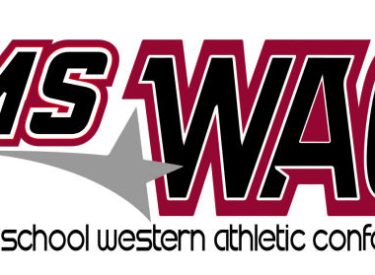 The Lady Warriors took on Kenneth Henderson Monday night at the Warrior Gym.
The Lady Warriors were ready to play taking control of the game from start
to finish. The Lady Warriors defeated KH by a score of 44-10. Leading the
way for the Warriors was Maliyah Mullens who got another double double
19pts 10 rebounds and Miah Janko with 10pts.
Monday night 8th grade Lady Warriors faced off against Kenneth Henderson.
B team lost 0-20. A team came out and struggled against an aggressive
Kenneth Henderson team. They came within 5 points with them but Kenneth
Henderson's offense was too much and the Lady Warriors lost 13-28. Leading
in scoring was Madysen Hammond with 10 points, Shiaa Dunlap with 2 points
and Liliana Santiago with one point. We want to wish everyone a Happy
Thanksgiving!
—
Nancy Hines
7A fromCoach Kadow –
The 7th Grade Lady Apaches A team traveled
across town Saturday to Play a double header against Hays
and Great Bend.
The first game the Lady Apaches played Hays. In the first
quarter Hays had 11 points and SRMS scored 6. At Halftime
Hays had 22 SRMS had 10. The third quarter ended with
the Lady Apaches 12 and Hays had 27. The Final score was
Lady Apaches 19 and Hays 37.
Rae Rae Dean had 7 points, Jaylani West had 2 points,
Viviana Favila had 6 points, and Evelyn Sandoval had 4
points.
In the Second game of the double header the Lady Apaches
struggled to get going in the first quarter managing only 3
points to Great Bend's 4. In the second quarter however
they managed to turn it up and added 7 more points while
holding Great Bend to 2 points making the score Lady
Apaches 10 and the GB Lady Panthers 6. Third quarter Rae
Rae Dean scored 9 points to create some distance from the
Lady Panthers making the score SRMS 24 to Great Bend's
10. The Final Score was SRMS 33 to GBMS 14.
Rae Rae Dean had 17 points, Jaylani West had 7, Viviana
Favila had 5 points, Maliha Navarro had 2 points, and
Evelyn Sandoval had 2 points.
On Saturday the Lady Warriors took on Great Bend and Hays at EMS in Liberal. In the first game the lady Warriors came out and put the pressure on all game against the Lady panthers and came away with a 37-10 victory. Maliyah Mullens recorded her third double double on the season 11pts & 11rebounds. Miah Janko also scored 11pts.
In the second game the Lady Warriors took on the Lady Falcons of Hays. The Lady Warriors were within striking distance at halftime time with the score being 26-22 Hays. However in the third quarter the Lady Warriors were out scored by Hays 19-6 and couldn't recover after that. The Lady Warriors ended up losing by a score of 51-36. Leading scorers in the game were Miah Janko and Maliyah Mullens both with 12 points and leading rebounder was Maliyah Mullens with 12 rebounds recording her fourth double double on the season.
Trae Jordan
Saturday 8th grade Lady Warriors faced Hays and Great Bend.
B team first faced off against Hays Saturday morning and played better as a team but struggled offensively. They fell to Hays 5-31. Leading in scoring was Evelyn Gonzalez with 3 pts, Ashley Romero and Yuridia Rayas with 1 pt each.
Against Great Bend Lady Warriors played their best game of the season but fell to Great Bend 12-25. Leading in scoring was Lorena Meza with 10 pts, Mora and Evelyn Gonzalez had 1 pt each.
A team started out Saturday morning facing Hays. Lady Warriors held Hays defensively the first half but Hays amped up their three point shooting and defeated Lady Warriors 15-35. Leading in scoring was Trinity Olvera with 13 points and Shiaa Dunlap with 2 points.
Next game Lady Warriors faced an aggressive Great Bend team and struggled offensively and fell to Great Bend 10-35. Leading in scoring was Trinity Olvera with 6 points, Liliana Santiago and Rebecca Davis with 2 points each.
—

The Eisenhower Lady Warrior 7th Grade B team  continues to roll through the season sweeping both Hays and Great Bend Saturday at Cottonwood Elementary.
The Lady's opened the day against the Falcons jumping out to a 10-0 lead at the end of the first quarter. The Warriors continued to put pressure on Hays taking a 16-3 lead into the half.  The Warriors dug in and held the Falcons scoreless the rest of the way for a 28-3 win.
Ashley Batista and Jesslyn Heredia each had 8 pts while Valeria Gandera and Yuridia Gonzalez adde 4 pts each. Jesslyn and Yuridia combined for 21 rebounds while Valeria and Ashley combined for 18 steals.
The Second match up against Great Bend saw the Warriors quickly start out scoring 10 pts in the first three minutes of the game. Another strong quarter had the Lady's build a 22- 8 halftime advantage. The Lady's were then able to drop back into prevent mode and cruise to a 30-12 victory.
Leading the way in the second match up was Yuridia Gonzlaez with 10, Jesslyn and Valeria 6 each, Ashley 4, while Julissa Moreno and Zoe Still added 2 each. Top rebounder was Jesslyn with 14.  The Lady's also recorded a team high 7 assists, and 7 blocked shots.
I'm impressed with how these girl's come to play every game Coach Babinec said.  They get off to quick starts and their speed creates many opportunities. It's great to see my players come off the bench and contribute whether it be rebounding or creating turnovers.  Even nine games into the season, we still have some basic fundamentals to improve on. I'm looking forward to how these Lady's respond the rest of the season.   The Warriors play Kenneth Henderson Monday at Eisenhower starting at 4pm  before heading into the Thanksgiving break.
Thursday  night 8th grade girls basketball faced off against Horace Good again. B team started off the night and struggled and lost 8-33. Lorena Meza led in scoring with 4pts. Ashley Romero and Alondra Arredondo had 2 pts each.
A team struggled as well and lost 18-32. Leading in scoring was Madysen Hammond with 8 pts, Trinity Olvera with 5 pts, Liliana Santiago with 4 pts, and Shiaa Dunlap with 1 pt.
—

Thursday night the Eisenhower Lady Warriors traveled to Garden City taking on the Horace Good Hawks. The Warriors started slowly again in the first two minutes of the game as both teams couldn't capitalize on scores.  By the end of the first quarter, the Lady's had built up a 10-2 lead.  The Lady Warriors continue to swarm on defense while taking an 18-6 lead at halftime.  In the second half the Warriors were able to keep pace with the Hawks. The final two and half minutes Juliissa Moreno, Arriana Felix, Zoe Still,, Jenasis Morua and Ashley Batista play a tight 2-1-2 defense to hold the Hawks scoreless.and finished the game with a 28 -15 victory.
Jesslyn Heredia had a career day scoring 14 points 8 rebounds and 1 blocked shot. The duo of Ashley Batista and Valeria Gandera continue to press well all over the court as they combined for 15 steals.Most impressively, as Ashley missed on a contested lay up and fell out of bounds, she was able to get back up and run down a Hawk player on the other side a tip the ball out of her hand negating her layup. Yuridia Gonzalz added 10 while Savannah Olvera and Valeria Gandera added 2 each.
As quick as this team is, we still have some fundamentals to work on and get better midway through the season. We still see too many miscues  missing the easy shots, finishing layups and ball control.
The Lady Warriors battle a second time with Hays and Great Bend on Saturday at Cottonwood Elementary. Games start at 10am. Currently the Lady's are holding first place in league playing looking to keep their momentum going. Come Cheer the  Warriors on!