Middle School Results
Brock Kappelmann - October 25, 2022 6:24 am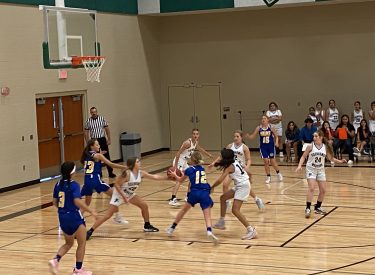 Last night the Lady Warriors kicked off the basketball season by taking on the Lady Hawks from Garden City.  The 7A girls were able to come away with a 28-21 victory over the Lady Hawks.  Leading the way for the Lady Warriors in scoring was Devaney Carter and Maliyah Mullens both scoring 11 points and Maliyah Mullens pulled down 7 rebounds.  The Lady Warriors are back in action on Saturday when they travel to Great Bend to take on Hays and Great Bend.
Trae Jordan
Last night the 8th grade Lady Warriors kicked off their season facing
Horace Good at EMS. 8B struggled last night but never gave up and lost to
Horace Good 25-2. Emily Vasquez scored the 2 points for EMS. 8A was off to
a rocky start trailing at the half. The Lady Warriors came out a different
team and played together fighting back with 7 seconds left to go in the
game and trailing by one point. It came to a last second shot that just
didn't fall in. Lady Warriors lost 19-18. Lead scorer for the Lady Warriors
was Madysen Hammond with 8 pts, Trinity Olvera with 4 pts, and Angel Luna,
Rebecca Davis, and Shiaa Dunlap with 2 pts each. Super proud of the girls
for never giving up and still congratulating Horace Good team on their win.
Way to show Sportsmanship Ladies!–
Nancy Hines
The Eisenhower 7th Grade B team  Lady Warriors opened up the 2022 campaign with a convincing 33-4 victory over the Horace Good Hawks.
The Warriors scored the first 15 points of the game while cruising the rest of the way..  The Lady's showed quick speed while moving the ball around finding open teammates for shots and lay-ups.  Defensively the Wariors generated 12 steals. "I was impressed with how well we responded in the opener." , said Coach Babinec  The girls really didn't show much nerves and fed off each other. Definitely a great start, but we still have quite a few areas to focus on getting better.   Hopefully we can carry this momentum into Great Bend to take this coming Saturday.
Leading the Warriors in scoring included  Yuridia Gonzalez  14pts, Valeria Gandaro 6 pts,  Ashley Batista 5 pts   Jesslyn Heredia 4pts  while Savannah Olvera and  Arianna Felix each added 2pts.    Leading rebounders were Jesslyn Herdia with 5 and Yuridia 4.. Ashley Batista led the team with 7 steals.