Middle School Results
Brock Kappelmann - September 16, 2022 6:50 am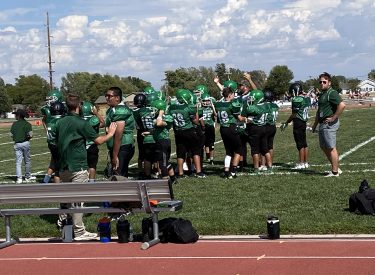 Last night The EMS Warriors hosted the Great Bend Panthers for a game and a half. Both the 7th and 8th grade games were defensive exhibitions with all four defenses playing inspired football.
The 7th grade Warriors defense started out strong and never let up.  The offense scored on their first drive of the game.  They were able to force 3 turnovers in the game and hold the Panthers to only one first down in the entire game keeping the Panthers off the scoreboard and their undefeated streak alive.  Zayden Norez forced 2 fumbles, Manuel Rodriguez forced another and Bren Kappelmann recorded the teams 4th takeaway with a game clinching interception.  Kappelmann also recovered a fumble in the win. Offensively, Ethan Olmstead anchored the offense with success scrambling and a great pass to Kye Morris who had over 100 combined yards in the game.  Zayden and Landry Fitzgerald were a two-headed beast combining for over 100 yards rushing.  The final score was 6-0 Warriors. The 7th grade team remains undefeated after still only allowing 6 total points across three games.
The 8th grade team was equally dominant on defense, also keeping Great Bend from scoring offensively.  The only points scored in the entire game were from a safety that the Panthers earned as a direct result of an NFL quality punt that stopped inches away from the end zone.  This brought the game to a 0-2 lead for the Panthers.  The Warriors Defense toughened up and stopped them again leading into halftime.  During the halftime intermission, weather forced the game to end early with the Warriors suffering the 0-2 loss in a game that all 4 coaches thought they were going to dominate in the second half.
Up next, the 8th grade Warriors travel back in time to Week 1 as they play the make-up game against Dodge City Middle School in Dodge on Monday, then both teams travel to Garden City to take on the Horace Good Middle School Hawks at 4pm on Thursday.