Middle School Results
Brock Kappelmann - August 31, 2022 6:33 am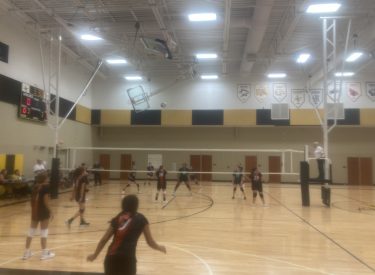 8A from Coach Sill –
Our Lady Apaches did so good
on Tuesday evening
! Kamora Dean lead the team in aces, Akemi Makishima Morris in digs and saves followed very closely by Dayanna Esquivel, and Selena Ontiveros lead the team in kills. There was so much positive energy throughout both games; we know what we need to work on, playing and coaching both, but honestly the girls have so much to be proud of after a great showing for their season opener this year!
SRMS 8th Grade B Team from Coach Sniff –

Tonight's triangular kicking off the season went well. In the first game against Hugoton, the girls pulled together and really played as a team. All girls gave it their all and played with passion. The second game against Kepley (Ulysses) started a bit rocky, but began to make progress as the game continued. All of the girls played with determination and were able to get the game going.
8th grade EMS- Nancy Hines
The 8th grade Lady Warriors A Team opened their season facing the Hugoton Eagles and the Kepley Tigers. First game nerves got to the Lady Warriors and fell to the Hugoton Eagles 20-25 and 10-25 and then to Kepley 0-25 and 10-25.
B Team split the evening falling to Hugoton and winning against Kepley in the third match.
Come out and support your Lady Warriors Thursday Sept 1st here at EMS!
7th grade EMS- James Babinec
Tuesday Night the Eisenhower Lady Warrior 7th grade A & B teams kicked off the 2022 Campaign with a Triangular hosted by Seymour Rogers MS with Ulysses and Hugoton coming to town.
The B team played tough against a good Ulysses Tiger team falling short in a two set match by scores of 13-25 and 16-25.
The A team played tentatively in their opening set against the Tigers. Taking an early lead, the Warriors had trouble connecting with each other and dropped the opening set 20-25.  The Lady's rebounded in the second set with strong serves delivered by Haiden Lyon, Brooklyn Short and Mal Mullens. The rest of the team provided support as the Warriors took the set 25-20.  The third set saw the Lady Warriors jump to an early and commanding lead. However, they struggled to capitalize as the Tigers fought back to take the win 12-15.
The Lady's finished the day with a 25-19 / 25- 9 sweep on the Hugoton Eagles for their first Match win.
I'm proud of how our Lady's played today.  We didn't play as well as I thought we would against Ulysses, but we gave them a good battle.  I think the girl's have a better understanding of the skill sets we are looking to refine in practice. We have several great servers as well as those that can hit the ball with authority.  As we develop this season, I expect these Lady Warriors will be a force to be reckoned with.
Members on the A team include Haiden Lyon, Brooklyn Short, Mal Mullens, Miah Janko, Yazlene Martinez, Liliana Guy, MarryAna Perrigino, Jyzelle Juarez, Scarlett Carr and Genasis Orrantra