Middle School Results
Brock Kappelmann - October 15, 2021 2:34 pm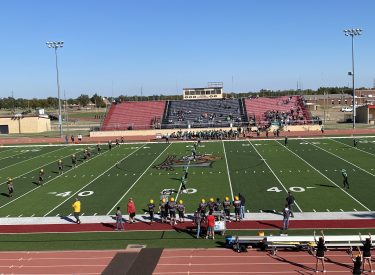 The SMS Apaches hosted The EMS Warriors at LHS Football Field Thursday.
The 7th Grade Apaches lost a tuff one 18 to 6. The first half ended in a
0 to 0 score but second half the warriors put up 18 unanswered point until
2:00 into the 4th with Gerardo Mercado running 10 yards for a touchdown to
finish the game.
The 8th Grade Apaches started the game giving up a kick off return and
turning the ball over deep in their own territory with the Warriors scoring
quick and ending their 1st Quarter with a 14 to 0 lead. The Apache defense
then stepped up their defense by holding the Warriors to 3 scoreless
Quarters ending the first half with Aiyden Thompson getting an interception
to end the first half. The Apaches had scored just before with a 10 yard
touchdown run by Hector Aquino. The half ended with the Warriors 14
Apaches 6. 3rd Quarter no one was able to score until 4: 47 in the 4th the
Apaches put together a drive with some good runs by Javonte Andrade, Hector
Aquino, and Adrian Barragan some good blocking by the offensive line and
Jesse Gomez completing a couple big passes one to Pedro Contreras for a
Touch down then scampering in for the 2 pt conversion tying the game at 14
each. with With 9 seconds left Jesse Gomez intercepted a 4th down pass
and ran it back 70 yds for the winning touchdown. Final score Apaches 20
Warriors 14.