Middle School Results
Brock Kappelmann - October 11, 2021 9:08 am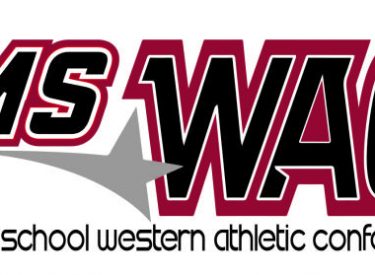 Warrior A Team started the morning facing DCMS in the first set of Pool
Play seeded 5th in the tournament. The ladies fell to the Cardinals in two
matches, 16-25 and losing a close game 23-25.
The Lady Warriors then faced Seymour Rogers getting their revenge winning
in two matches, 25-10 and 25-21.
In their third set of pool play lady Warriors faced a good Great Bend team
falling to the Lady Panthers 9-25, 11-25
In the bracket games the Lady Warriors faced Hays Falcons, Warriors fell to
them in two matches 25-2 and 25-9.
The Lady Warriors then faced Kenneth Henderson for third place. After a
hard fought battle the Lady Warriors lost 18-25 and 23-25 taking 4th place
overall in WAC moving up a seed.
B Team Lady Warriors faced Kenneth Henderson for the first set of Pool Play
and won in two matches 25-21, 25-21.
The Lady Warriors then faced Great Bend Panthers and fell to them in two
matches 14-25, 16-25.
In the third game of pool play Lady Warriors faced Seymour Rogers defeating
them in two matches 25-22 and a close second game 25-23.
In bracket play Lady Warriors faced Hays and fell to them in two matches
9-25 and 16-25.
In the last match of the day for third place the Lady Warriors faced DCMS
defeating the Cardinals in two matches taking Third Place!
25-10, 25-16!
So proud of you ladies!
Coach Hines and Coach Ralston
From Coach Riggs –
MSWAC  XC  Oct. 9, 2021 article for SRMS
The morning was dark with 9 Apaches silhouetted on the bus.  Warm breakfast
burritos and muffins with fruit greeted the Apache Cross Country Athletes.
The Apaches knew this was their last meet in Hays.
The rigorous course and beautiful October sunrise greeted the two teams
from Liberal, Kansas. The 7th grade girls ran first at 10 am with the
with a time of 10:23 coming in 27th place.  Jessica Pando turned in a time
the pack with a time of 8:35 and placed 22nd.  These lady Apaches have
constantly improved and have kept the team's spirits up.
The 7th grade Apache braves were up next.  Again the starter's pistol
belched fire and the teams were off running.  Marcos Rivas placed 36th and
turned a time of 7:41.  Marcos was 11 seconds shy of another PR.
meet this season and the MSWAC XC was no exception.  Cain Ortiz
mile course.
The 8th grade lady Apaches were represented again by Gennesis Leyva.
Genesis Leyva has shown growth all season.  This Apache has shaved 4
minutes off her first cross country meet and ran exceptionally well at Hays.
The 8th grade Apache braves gave it their all in typical fashion.  Joshua
to represent Seymour Rogers Middle School this year.
time of 17:41.  Zahir Ortiz placed a respectable 12th spot with a time of
13:17.
As the sun sets on another SRMS cross country season, Coach Lobmeyer and
Coach Riggs would like to thank the staff, the parents, and especially the
athletes for another year of making students into better runners.  It's a
great day to be an Apache!