Mesa/Guidotti Sign at Arkansas-Little Rock
Brock Kappelmann - April 13, 2017 6:51 am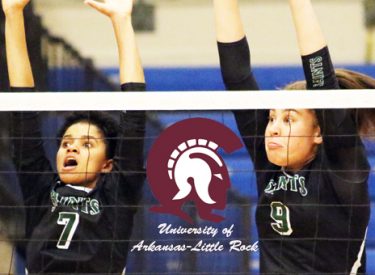 Teammates for two years at Seward County, the Lady Saints Maritza Mesa and Belissa Guidotti will be teammates for two more years at the University of Arkansas-Little Rock as the pair signed their National Letter of Intents on Tuesday to join legendary coach Van Compton and the Trojans next season.
Mesa had a monster sophomore season for the Lady Saints, leading their charge to a Jayhawk West and Region VI Championship before pushing the team through to an 11th place finish at the NJCAA National Tournament. She was named an Honorable Mention NJCAA All-American, the first Seward player to reach All-American status since 2008, and was a 1st Team All-Conference and 1st Team All-Region VI player in 2016. Mesa banged home 3.42 kills per set from the right side this season, ranking second in the conference in the category, while racking up 14 double-doubles on the season, including an 18 kill, 11 dig performance in the Region VI Championship match.
Guidotti also had a breakout second season in Liberal, leading the Jayhawk Conference in blocks at 1.29 per set in 2016 which was also good for a top 10 finish nationally in the category. The middle from Avare, Sao Paulo, Brazil notched multiple blocks in all but one Seward County match this season and had six or more blocks nine different times for the Lady Saints. She was a 2nd Team All-Conference and 2nd Team All-Region selection for her work during her sophomore season.
Mesa and Guidotti will join a Little Rock program that is just three seasons removed from a 30 win campaign and a trip to the NCAA Tournament where they upset #16 Kansas in the first round in Topeka. They will attempt to be a part of a rebuilding season for the Trojans in 2017 after Little Rock stumbled down the stretch to a 12-18 mark last season. Mesa and Guidotti will play under the direction of veteran coach Van Compton who will begin her 30th season with the Trojans next season, going into the year just one win shy of 500 at Little Rock.
Seward Coach Thais Baziquetto-Allen said of the pair "Little Rock is getting two players that have won 53 games over the past two seasons, so they are getting experienced kids that know how to win. These two probably improved more than anyone since they stepped on campus two years ago, and I expect them to continue to do that for the next two years there as well." Mesa said when asked what she liked most about the UALR program "I really liked the coaches and the players. They made us feel welcome there from the start. I also liked how good their business program was, because that will help me in my future after volleyball." When asked what she would miss most about Seward, Guidotti said "I will miss the people and my teammates. We had so much fun the past two years on road trips, in the locker room, and off the court, I will miss that a lot."
Roy Allen