Mendoza Beats the Buzzer and Dalhart
Brock Kappelmann - December 7, 2018 7:26 am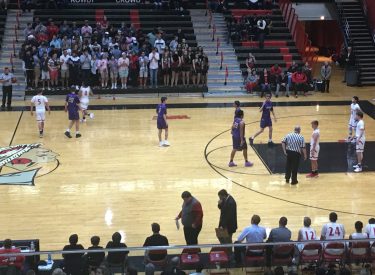 Jordan Mendoza's left handed lay-up before the buzzer gave the Liberal Redskins a reason to celebrate a 72-70 win over the Dalhart Wolves in the Big House Thursday night.  The Rowdy Crowd flooded the court after the dramatic win.  It was Liberal's only lead of the second half.  The Redskins trailed 70-61 with 2:20 to play before finishing the game on an 11-0 run.
Dalhart built a 16-9 lead before the Redskins tied the game at 16-16 at the end of one.  The Skins led 26-23 and 28-25 before the Wolves tied the game at 28-28 at halftime.  Dalhart shredded the LHS defense in the third quarter building leads of 40-31, 53-45, and 57-47 with 1:16 to play in the half.  The Wolves led 57-51 after three.  Dalhart led 70-61 with 2:20 to play before the Redskins rallied.  Their full court pressure forced a few key Dalhart turnovers late.  Brodie Sumner buried a key right win three pointer to tie the game at 70-70.  Dalhart had the ball with 19.1 second left.  The Wolves missed a  three from the left corner.  Mendoza scooped up the rebound and raced down the floor for a guarded left handed lay up to win it 72-70.
Mendoza scored a career high 26 points and buried five three pointers.  Hunter Hatcher had 16.  Lee Hatcher had 12.  Brody Sumner scored 11.  LHS made 11-25 three pointers which kept them in the game.
The Redskins are 3-0 and Dalhart is 2-4.  Liberal plays Wichita Trinity Friday night at Garden City Community College at about 7:45 on 1270 and kscbnews.net.