Memorial Day Services Set For Liberal
KSCB News - May 29, 2011 2:36 pm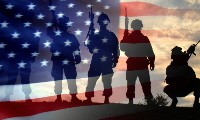 The American Legion and Auxiliary invites the public to commemorate and honor those who have given their all for us to appreciate our freedom.
The group will gather at 11:05 a.m. Monday at Liberal Cemetery and at 2 p.m. Monday at Restlawn Memorial Garden.
The programs will include:
Posting of the colors, the National Anthem Speakers, readings poems songs, and the POW/MIA listing and echoes. Taps will also be played before the retiring of the colors.
City and County offices will be closed Monday in observance of the Memorial Day holiday.