Mein and Kirk Finish in Top 10 at Great Bend
Brock Kappelmann - October 4, 2017 6:29 am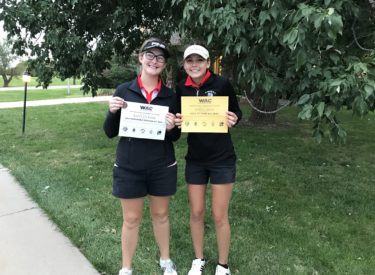 Tuesday the girls golf team travel to Great Bend for their final
regular-season tournament. The team finished fourth with a team score of
426. Individually Corey Mein places 4th with a 89. Kaitlyn Kirk placed 8th
with a 98. Sarah Aichele shot a 112 on the day a personal best for her.
Victoria Lopez carded a 128 and McKenzie Miller only one stroke behind
with a 128, both of them with their best round the year. Morgan Nelson
rounded out the day with a 142. For the seasons WAC results the girls
finished 4th. Corey Mein 3rd in the WAC and Kaitlyn Kirk received honorable
mention. The girls will return to Great Bend on Monday for regional play.
Jessica Tercero