Mefford Leaves Seward for New Mexico Junior College
Brock Kappelmann - April 29, 2020 9:15 am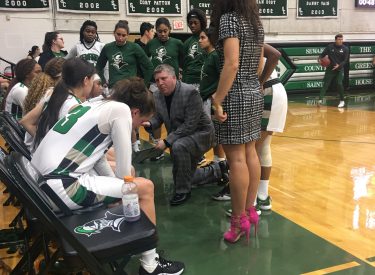 After two years at Seward, Lady Saint coach Austin Mefford is leaving Liberal for Hobbs, New Mexico.  Mefford is the new head coach at tradition rich New Mexico Junior College.
Mefford replaced Toby Wynn after he took the Emporia State job.  Mefford was 55-11 in two years at Seward.  The Lady Saints were 25-7 in 2019-20 with and 18-3 record in the Jayhawk West.  Seward won the Jayhawk West in 2018-19 reeling off 20 straight wins to finish 20-1 in the Jayhawk West and 30-4 overall.  Mefford's Lady Saints qualified for the NJCAA Tournament both years.
Mefford takes over a big time NJCAA coach and program with NMJC and 13 year head coach Drew Sanders.  Sanders retired after this season.  During his 13-years tenure with the Lady T-Birds, Sanders racked up 298 wins against 115 losses. NMJC won five Western Junior College Athletic Conference championships and two co-championships with Sanders as the coach. His Lady T-Bird teams made the NJCAA National Championship Tournament seven times, including each of the last three years.
Mefford replaced Toby Wynn who was 349-84 in 13 years at Seward after Jim Littell who was 418-61 in 14 years at Seward.  So Mefford is a rare short timer to the program.
Before Seward County, Coach Mefford was an assistant coach at Gulf Coast State for five seasons. During those years, the Commodores had three Panhandle Conference Championships, three Region 8 Championships, and had back-to-back NJCAA National Championships in 2016 and 2017.
Mefford told sewardsaints.com he is thankful for his two years at Seward.
"I cannot thank Seward County Community College and Dr. Trzaska enough for allowing me to be their coach the last two years," Mefford said on Tuesday morning. "They provided me with a platform to excel and continue the rich history of Lady Saints Basketball. I just felt this opportunity was right for my future and my family."
Mefford continued to discuss what he will miss about Seward, "In my decision, the hardest part is leaving the hard-working players we have, the awesome faculty and staff at Seward and mostly some of the best fans in the country. Thank you for your support as we could not have had our success without all of you.
Artamenko indicates that they will be moving forward with a national search for Mefford's replacement, "It will be tough to fill the shoes of Coach Mefford but I strongly believe Seward County is one of the premier jobs in the NJCAA.  We want to make sure we get the best candidate that represents the Liberal, KS community as well as provide the best opportunities for the student-athletes."
For more information follow the Seward County Saints at www.sewardsaints.com. All questions can be directed to 620-417-1550.