Meet the Candidate forum set for Oct. 17
Joe Denoyer - October 15, 2023 9:23 pm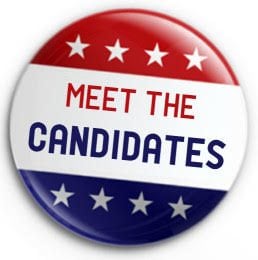 The public is invited to a "Meet the Candidate Forum" from 6:30 to 8:30 p.m. Tuesday, Oct. 17, at the Student Union meeting room at Seward County Community College. The event is sponsored by the Liberal Area Coalition for Families and Seward County Community College. Nachos and cookies as well as tea and flavored water will be served.
"We thought it was important for the voters to have an opportunity to meet all the candidates who are running," said Charity Horinek, LACF IVE Outreach Coordinator. "Each candidate will be given an opportunity to introduce themselves. We hope that voters will come to meet the candidates, ask them questions, and hopefully be able to make an informed decision when they go to vote."
One of the reasons the LACF and SCCC have teamed together for this event is to improve participation in the non-partisan races that set the local leadership for the near future. "Two years ago, we only had 16.7 percent of the eligible voters actually cast their vote," said Horinek. "We want people to understand that voting for your local races are just as important as state and national races. The decisions by local officials can have a tremendous impact on your day-to-day life."
All of the candidates for Liberal City Commission, USD 480 Board of Education, and Seward County Community College Board of Trustees have been invited to participate.
Candidates for the Liberal City Commission include Ron Warren, Kathleen Alonso, Jose Lara, Matt Landry, Greg Duran and Richard Wester There are three positions open, two four-year terms and one two-year term.
Candidates for the USD 480 School Board for the four four-year terms are Mike Brack, Travis Martinez, Bradley Carr, Jesus Baeza, Enrique Weissel Jr., Margarita Biggs, Brian Mannel, and Kaylee Ruiz-Lopez.
There are six candidates for the four positions open on the SCCC Board of Trustees. The candidates are John Engel, Marvin D. Chance Jr., Keeley Moree, Kay Burtzloff, Kelly Hill and Jennifer Malin.
For more information about the forum, contact Horinek at [email protected] or call 620-417-1133.