Meade's Hardaway the Best of Billy's 10 Best
KSCB News - November 16, 2012 7:16 am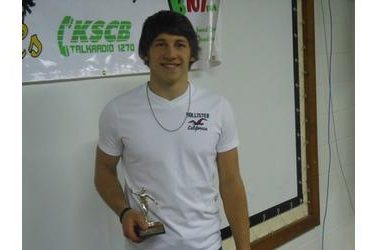 Meade's Chris Hardaway is the overall winner of Billy's 10 Best. Hardaway and 10 other football players already won a 350 dollar scholarship from Billy's and 102.7 FM to a school of their choice next year, but Hardaway won an additional 350 dollars Thursday night during the Billy's 10 Best Banquet at the Mid America Air Museum. Hardaway has passed for 1,022 yards with 17 touchdowns and three interceptions while rushing for 956 yards and 13 touchdowns. He also has four interceptions and a fumble recovery. Hardaway also plays basketball, runs track, and is a member of the LYS youth leadership at the Lutheran Church.
Southwestern Heights Ben Johnsrud, Satanta's Matt Leggett, Turpin's Jake Jimenez, Tyrone's Cole Wall, Meade's Chris Hardaway, Hugoton's Alfredo Licon, Beaver's Kalen Gabel, Moscow's Lane Miller, Sublette's Avigael Gonzalez, Hooker's Agustin Barrios, and Liberal's J.J. Lewis attended with their parents and coaches. Booker resident and former West Texas State wide receiver Daryl Wynn was the speaker.
Hardaway and Meade host Lacrosse at 7 p.m. Friday night on 102.7 FM.