Meade Looks for More
KSCB News - August 29, 2011 6:51 am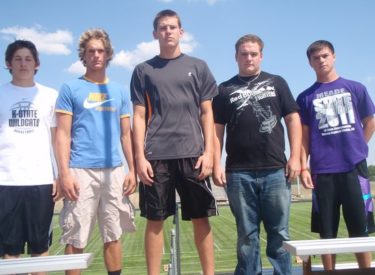 These are heady times in Meade. The Buffaloes won state over Pittsburg Colgan last year and they are the favorite to do it again this year and are ranked number one in 2A. There are 45 players out for football at Meade and eight starters back on defense with six starters returning to the offense. To make matters even better, Scott Moshier is their head coach entering his sixth year. He is 49-10 at Meade going 8-3, 8-3, 10-2, 11-1, and 12-1.
The Buffs return a wealth of talent although they lose a pair of one-thousand yard producers in Kellen Hernandez who is playing at Ottawa and Jaden Friesen. The Buffaloes return three seniors who were starters as sophomores. Senior fullback and linebacker Adrian Pfanenstiel, senior lineman Weston Kroth, and senior defensive end Manny Castillo. Castillo and Kroth were first team all state selections last year. Meade also brings back junior running back and defensive back Trevin Wiens, junior quarterback and defensive back Chris Hardaway, junior tight end (6'9" 225 lb) Randy Friesen, sophomore outside linebacker Morgan Olvera, and sophomore running back and defensive back Jett Little.
Meade plays the only team who defeated them last year, Canadian, Texas Friday night. Canadian advanced to the semifinals of the 2A Texas playoffs last year. Meade has won 11 straight home games since a playoff loss at home to Smith Center three years ago.
Scott Moshier and members of the Buffaloes will be guests during the Sportsguys Monday morning between 7:37 and 9 on Talkradio 1270 and kscbnews.net.
Schedule
Sept. 2- Canadian
Sept. 9- at Lakin
Sept. 16- at Southwestern Heights
Sept. 23- Cimarron
Sept. 30- Stanton County
Oct. 7- at Syracuse
Oct. 14- at Satanta
Oct. 21- at Elkhart
Oct. 27- Sublette