McSpadden Wins 1,000th Game
KSCB News - March 12, 2011 8:14 pm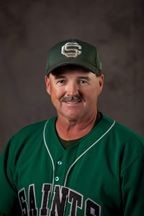 Mark another milestone off the list. Seward baseball coach Galen McSpadden won his 1,000th game with a sweep at Cloud on Saturday. The Saints won game one 9-5 behind righty Paul Pulley and won game two behind lefty Jose Gonzalez. The Saints are 14-8 overall and 6-2 in the Jayhawk West as the Thunderbirds fall to 7-7 overall and 2-6 in the Jayhawk West. The Saints play one nine inning game at Rose State in Midwest City, Oklahoma Sunday. McSpadden entered the season ranked 23rd in career NJCAA wins and eighth among active coaches. He is second in Region 6 history in wins.
In game one, Paul Pulley (2-1) pitched 6 and 2/3 innings. Carlos Dorado had three hits to lead the Saint offense. Jordan Dallalio, Willie Gustin, and Tyler Hill had two hits a piece.
In game two, Jose Gonzalez (1-1) pitched 8 and 1/3 innings for the win. Willie Gustin finished the game for his second save. It was a frustrating offensive game for the Saints who loaded the bases three times but just scored one run out of those three situations.