McSpadden Will Have Jersey Retired
Brock Kappelmann - April 27, 2022 4:34 pm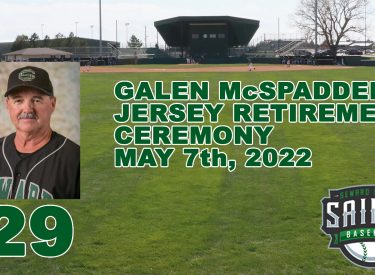 LIBERAL, Kan. – Seward County Community College will honor 37-year head baseball coach and athletic director Galen McSpadden as they retire number 29 on May 7th at Brent Gould Field. The ceremony will start around 12:15 PM and will conclude with a first pitch by McSpadden before the Saints take on Pratt Community College at 1 PM CT.
McSpadden became Head Coach at SCCC in 1981, he took the Seward County baseball program onto the national scene, and set records with all-time career wins with 1,243, and single-season head coaching records 50-16 (.758) in the history of the Seward County baseball program.
In the Summer of 2008, McSpadden was inducted into the NJCAA Baseball Hall of Fame. In 2010, he was inducted into the Kansas Baseball Hall of Fame, and in 2012, he was part of the first Hall of Fame Class at Seward County, one year later he was inducted into the Athletics Hall of Fame at his alma mater, Southeast Missouri State University, and he is also a member of the Liberal BeeJays Hall of Fame.
During his time at Seward County McSpadden was the Athletic Director (AD) for 33 years and oversaw the department and helped with every program. During his time as AD, the Saints captured 48 Jayhawk West Conference titles, 29 NJCAA Region 6 Tournament Championships, and the 2001-2002 women's basketball program won the NJCAA Division I National Championship. The eight athletic programs in the department under McSpadden made 42 appearances at the NJCAA National Championships and a total of 47 NJCAA All-Americans.
Join us to honor the accomplishments that McSpadden has done for Seward County Community College and for the Liberal community on May 7th. Join us after the doubleheader as Seaboard Foods will have a cookout for fans and parents' appreciation.