McPhail Beats Number One Bean
KSCB News - February 25, 2011 1:14 pm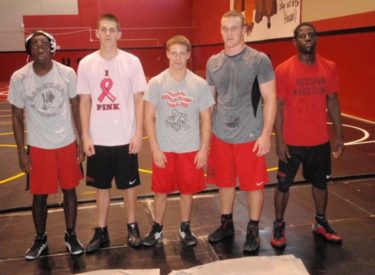 Liberal's Justin McPhail, the second ranked 215 pounder beat top ranked Luke Bean of Kapaun 3-1 in overtime Friday night at the state wrestling tournament in Park City to advance to the championship Saturday. It was scoreless after one period. Beaon earned a point on an escape in the second round. McPhail earned a point with an escape of his own in the third round to send the match to overtime. McPhail got a take down in overtime to win 3-1. He'll face Gardner-Edgerton's Kyle Pacheco in the championship.
In the semifinals, McPhail won a major decision 9-1 over Matt Baumgartner of Bishop Miege.
Three of the five LHS state qualifying wrestlers won their first round match at the 5A State Wrestling Tournament in Park City. Sophomore Cody Smith beat Brett Simmons of Topeka Seaman 11-4. Junior Adebayou Braimah pinned Justin Dyer of Shawnee Heights in 3:33. Lansing's Spencer Blew pined sophomore Ayodole Braimah in 1:08. Lansing's Dillon Scanlon pinned sophomore Trenton Wilson in 3:52. LHS junior Justin McPhail barely broke a sweat in pinning Emporia's Mike Arreola in :39.
Both Cody Smith and Adebayou Braimah lost their second round matches. TJ Stokes of Gardner-Edgerton beat Smith 17-1 by technical fall. Dustin Williams of Gardner-Edgerton beat Adebayou Braimah in the second round 5-4.
In consolation, Keaton Dugan of Bishop Carroll defeated Ayodole Braimah at 145 pounds in a 13-3 major decision. At 152, Trenton Wilson won his consolation match by fall at 2:02 over Kane Shireman of Gardner-Edgerton.