May is the Month of Focus for LHS Track
KSCB News - April 1, 2016 1:25 pm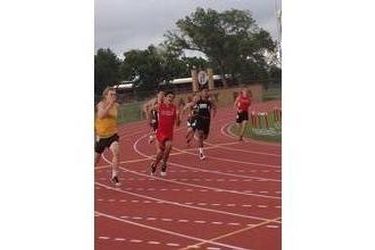 If you have heard any of coach Tyson McGuire's interviews about his cross country program, this will come as no shock. McGuire's cross country teams use heart monitors to pace themselves to be at their optimal level when the calender turns to late October and early November. Now McGuire steps in as Liberal's track and field coach with the same sentiment. Make or break in May.
Liberal opens their track and field season celebrating their tradition. The team will wear t-shirts marking all of their WAC titles which includes 2015 for the boys. Caleb Cline stepped down as head coach but is still in the program coaching JV throwers. McGuire, who had coached long distance runners in track, is the head coach.
LHS has great interest in track among their underclassmen. LHS has 19 seniors, 28 juniors, 39 sophomores, and 46 freshman boys and girls out for track. The boys have only two state competitors in 400 regional champ Dusty Torres and mid and long distance runner Greg McClurg. Payton Emery in the throws and basketball standouts Kylen Thomas and Markaylen Eatmon may burst onto the scene in the jumps.
The girls are strong especially in long distance and the throwing events. Cam Slatten, Kelsey Ramsey, Chloe Alling, Saw Ahmara, and Yanelly Jurado return to track after running cross country in the fall. Megan Larkin, Rashida Davis, and Stephanie Garcia bring back experience and success in the throws.
LHS has many of the same coaches. Here is a breakdown of LHS coaches:
Shot Put- Mike Cline
Discus- Caitlin Bauer
Javelin- Janel Durler
Jumps- Kerri Miles
Pole Vault- Rob Wilson
Hurdles- Russ McFall
Sprints- Trace Haskell
Distance- Tyson McGuire
LHS opens the season at Winfield Friday night and will host their meet Friday, Arpil 8.