Markel Pitches BJ's Past A's
KSCB News - July 2, 2010 12:00 am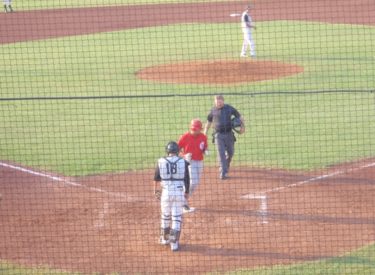 Yavapai's Parker Markel pitched six innings of one hit shutout ball in a 4-1 win at Dodge City Thursday night. Lubbock Christian's Mark Gomez and Concordia's Joe Vaskas homered in the win.
Markel allowed a lead off double in the first and held the A's hitless through the sixth. St. Louis's Travis Parker worked two scoreless inning allowing one unearned run and Lamar's Brandon Ward-Hersee pitched a perfect ninth with two strikeouts for his fourth save.
The BJ's scored one in the second when Gomez hit a towering homer to right center for his first of the year. The BJ's added another run in the third when Nicholls State's Blake Bergeron singled home Clarendon's Edwin Arroyo. Dodge City's Chuy Francies then struck out eight of 11 and five straight men before Kyle Borden reached on an error. Concordia's Joe Vaskas then hit a line drive home run way over the center field wall for his second of the year to make it 4-0. Dodge scored a run in the seventh.
Vaskas, Gomez, and Seward's Kelby Tomlinson collected two hits a piece.
The BJ's have won four in a row and are 13-6 with a 7-6 Jayhawk League record. The A's are 10-11 overall and 4-10 in the Jayhawk. The BJ's host the West Texas Outlaws Friday night at 7 p.m. Jerry Harding State Farm Insurance is the buyout sponsor.