Mariko's Best Bet was KSCB's Stretch Your Dollar
KSCB News - July 28, 2012 12:44 pm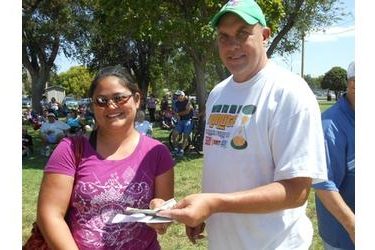 Hundreds of folks braved hot conditions Saturday at Blue Bonnet Park, and for most, it was well worth it. KSCB/KLDG and their sponsors gave away hundreds of prizes. The largest prize was the one thousand dollars in cash given to Liberal resident Mariko Betts. When her number was selected, she reached into a money bag and happened to pick the bag to make her a winner of one thousand dollars. She is married and is a mother of a two year old and a four year old and says the money will help pay for bills. The family just got a new pool and some pool toys may be on the way for the Betts family as well. She works at the law office of Gilmore Shellenberger, and Maxwell in Liberal. She picked her Stretch Your Dollar ticket from KSCB's party at Broadcast Square in early June.
The first number picked belonged to Liberal resident Richard Martin. He had a chance to win 10-thousand dollars. He didn't not pick the winning money bag for 10-thousand dollars but he won 100 dollars in cash and a prize package.
Hundreds more also received prizes from sponsors of this summer's Stretch Your Dollar promotion. Seaboard cooked plenty of pork burgers and hot dogs which were free for KSCB's listeners.
KSCB/KLDG thanks all of the listeners and sponsors for making this years event another success and most importantly a lot of fun.