Mariga and Paulas Named to NJCAA All American Teams
KSCB News - May 19, 2015 1:40 pm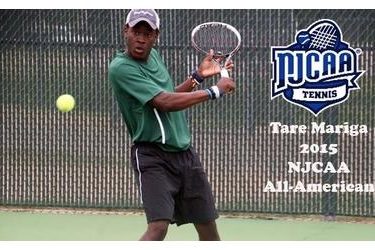 Following the deepest run at the NJCAA National Tournament in program history, Seward County Freshman Tare Mariga has been named the first NJCAA All-American in Saints Tennis program history.
Mariga was unstoppable for the Saints this season at #5 singles, racking up a 14-2 record on the Spring. His .875 winning percentage was best on the team in singles action. In doubles he was equally as effective, going 13-4 with partner Paul Arslanian, which was also a team best. Mariga made a historic run at the NJCAA National Tournament in the #5 bracket for Seward. After a first round bye, he cruised to three straight sets wins in a row to become the first player in program history to play for an NJCAA National Championship. Mariga battled top seeded Shaquille Taylor of ASA tooth and nail, but in the end came up just short in a three set defeat. Despite the loss, Mariga's 2nd place finish was not only good enough for the best mark in school history, but also good enough to become Seward's first ever NJCAA All-American with his 2nd Team honors.
For the first time in over 10 years, the Seward County Lady Saints have an NJCAA All-American on the tennis court as sophomore Paula Lopez joins teammate Paula Coyos as a 2nd Team All-American in doubles for 2015.
Lopez was nothing short of brilliant for Seward this season, posting a 30-4 record in #1 singles play and a 30-2 record in doubles play with Coyos. While the records are impressive enough themselves, they are even more astonishing when considering that 4 of her 6 losses on the year came in National Semifinal or National Championship matches. Lopez finished 2nd at the ITA National Tournament in doubles this fall and followed that up with another run at a National Title, falling just short at the NJCAA National Tournament with Coyos, again finishing 2nd. In the top draw at both the 2014 ITA and 2015 NJCAA National Tournaments, Lopez reached the semifinals and finished 3rd. Lopez finished her Seward County career with 124 wins, marking the most victories by any player in school history.
Lopez and her doubles partner Coyos will be headed to the University of West Florida next season to play for one of the top NCAA Division II schools in the country.
Roy Allen