Manns Jr. Named Heartland Conference Player of the Year
KSCB News - November 25, 2014 6:29 am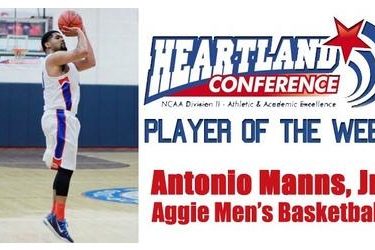 Goodwell, Okla.-Antonio Manns, Jr., starting guard for the Oklahoma
Panhandle State University men's basketball team, has been named Player of
the Week by the Heartland Conference for Nov. 17-23.
The junior transfer from Baltimore, Md. came to OPSU by way of the New
Mexico Military Institute where he averaged over 13 points per game and
ranked 11th in the WJCAC in scoring for the 2013-2014 season.
Manns achieved a career-high 42 points against a very competitive Northern
New Mexico College this week and put up 28 points against Barclay College to
help lead the Aggies to their first win of the season. He not only leads his
team in scoring, but Manns has stood as the game-high leader in all four
appearances to date.
For the week he averaged 35 points, four rebounds and two assists per game,
and totaled five steals. Manns currently leads the conference in scoring
with a total of 123 points and sits in the top-ten in both three-point and
free-throw percentage.
Head Coach Jerry Olson is extrememly proud of Manns' accomplishments thus
far saying, "He is playing really well and I'm extremely pleased with the
progress he's making on defense. He is a mismatch for teams because he can
go inside, he can go outside and he is able to penetrate."
Congratulations to Antonio for his outstanding contributions to Aggie
Athletics! Aggie fans can see him in action this week as the Aggie men host
two home contests starting Tuesday at 7 p.m. with the University of
Colorado-Colorado Springs; the men play again on Saturday at 3 p.m. against
Southwestern Oklahoma State University.
###
Justine Gaskamp