Man To Be Sentenced In 5 State Farm Theft
KSCB News - September 29, 2010 12:00 am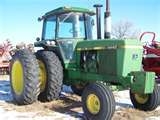 A man convicted of stealing farm equipment
and transporting it to his Kansas farm faces sentencing in a
five-state theft operation.
Matthew T. Jones was scheduled to go before U.S. District Judge
Eric Melgren on Wednesday in federal court in Wichita.
Jones pleaded guilty in May to three counts of interstate
transportation of stolen goods. He agreed to pay $1.15 million in
restitution.
Prosecutors say Jones and co-defendant Ryan Hanzlick stole large
pieces of farm equipment between 2005 and 2008 from Wyoming,
Nebraska, Oklahoma, Kansas and Colorado.
Hanzlick was sentenced earlier this month to three years in
prison and ordered to pay $329,900.