Man Pleads Guilty To Robbing Garden City Store
KSCB News - October 5, 2010 12:00 am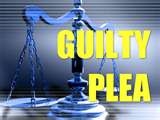 A man has pleaded guilty to robbing a Garden City convenience store and threatening the clerk.
Henry L. Scott, 23, Garden City, pleaded guilty in U.S. District Court in Wichita Monday to one count of robbery and one count of carrying a firearm during a crime of violence. In his plea, he admitted that on Jan. 29, 2010, he robbed the Food Mart at 1505 W. Buffalo Jones Avenue. He threatened the clerk and handcuffed the clerk to a sink during the robbery. During the crime Scott was carrying a Taurus .357 revolver.
Sentencing is set for Dec. 20. Prosecutors are recommending a sentence of 138 months in federal prison .