Man Goes Above And Beyond To Help
KSCB News - December 19, 2012 4:10 pm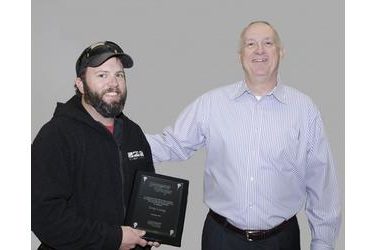 On Sept. 20, Tri-County Electric Cooperative serviceman Trey Long was driving down a side street after lunch in Guymon. It was just like any other day until he saw a woman who had fallen in her yard. She was waving her arm for help. He stopped his service truck and went to her.
Margory Farrell of Guymon had been laying in her yard helpless for about 45 minutes. Long realized she was injured and called an ambulance for help. He covered her with his coat and waited with her for the ambulance.
"I have absolutely cried when I think about what that young man did for me," Mrs. Farrell said. "He stayed with me, he held my hand, and he covered me up. He said he wasn't leaving until the ambulance arrived. I cannot be grateful enough to him. He was such a wonderful role model for your company. He did everything and he did it right. We should be very proud to have people of his caliber in our neighborhood and among our friends."
But the story doesn't end there.
Mrs. Farrell spent two weeks in the hospital and six weeks in rehab at a nursing home before returning home. When she could, she called Tri-County Electric to express her gratitude and appreciation for Long's assistance. Not only did Long get help for Mrs. Farrell, but later he, his wife Janet and their two young children, Rance and Laramie, took a flower bouquet and visited Mrs. Farrell in the hospital where she was recovering.
"Trey Long did the right thing calling for help when he saw Mrs. Farrell was injured," Tri-County Electric Chief Executive Officer Jack Perkins said. "He went above and beyond when he stayed with her and later went to visit her."
The cooperative commended Long's actions by presenting him with a Touchstone Energy Cooperative Power and Hope award at their employee meeting on Dec. 19. The prestigious Power and Hope Award honors cooperative employees who go the extra mile to assist someone in need.