Man Accused Of Farm Thefts Expected To Plead
KSCB News - July 6, 2010 12:00 am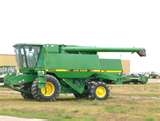 A Kansas man is expected to plead guilty to
the thefts of large farm equipment from five states.
A change-of-plea hearing for 32-year-old Ryan Hanzlick of Gem
was scheduled Tuesday in U.S. District Court in Wichita.
Hanzlick and another man were charged with stealing equipment
between November 2005 and April 2008 in Colorado, Kansas, Nebraska,
Oklahoma and Wyoming. Among the stolen items were tractors,
trailers, a combine, a grain cart and a planter.
Co-defendant Matthew Jones of Colby pleaded guilty in May and
agreed to pay more than $1.1 million in restitution.