"Maintain Don't Gain! Holiday Challenge" at Seward County Extension Office
Joe Denoyer - November 2, 2016 10:10 am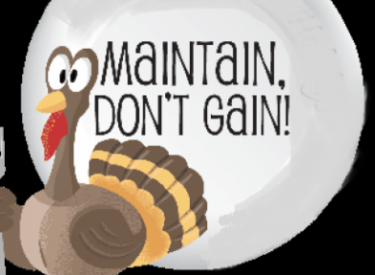 Seward County Extension is bringing the "Maintain 
Don't
Gain! Holiday Challenge
" 
weight-maintenance program 
to our community
! 
This 
simple
 6 week
 program is designed to 
get folks through the holiday season with minimal weight 
gain
.
Here's how it works: 
Participants sign a pledge not to gain more than two pounds over their starting weight.  They weigh-in before Thanksgiving, again mid-December and after New Years.  




Weigh-in can take place at the Extension Office 

or 

 at your workplace or home

 as long as a witness verifies the weigh-ins and the same balanced scale is used each time. 
A $5 fee is charged 

and prizes of two $50 Liberal Chamber Bucks are awarded at the end of the challenge from a drawing of th

ose who complete all three weigh-in's.

Motivational e-mails are sent to participants throughout the challenge period.
The 
Holiday Promise Pledge  form
 (or Offsite Affidavit) along with the 
$
5 registration fee 
must be returned to the Seward County 
Extension
 Office, 1081 Stadium Road, Liberal KS no later than Nov. 23rd at 4:30 pm. Make checks payable to Seward County Extension. Sorry, no credit cards can be accepted.
Don't delay the first weigh-in will be the week of November 14 – 18 and 21 – 23!
 For more information contact:
Kathy Bloom

Family Consumer Sciences/4-H Agent Seward County
K-State Research and Extension
1081 Stadium Rd., Liberal KS  67901
(620) 624-5604 Office, (620) 624-0742 Fax


[email protected]