Machia Mullens Commits to UMKC
Brock Kappelmann - May 21, 2019 12:35 pm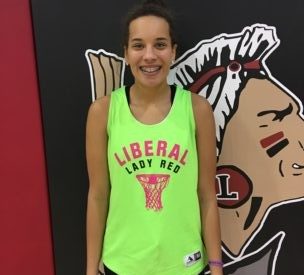 Liberal High School junior basketball player Machia Mullens has committed to play basketball at the University of Missiouri-Kansas City.  She will join former LHS teammate Jada Mickens with the Roos.  The first team all WAC player averaged about 15 points and seven rebounds per game as a junior.  She made 49 percent of her shots from the field and made 9-27 three pointers.  She averaged 12 points and eight rebounds a game as a sophomore and seven points and six rebounds a game as a freshman.  Mullens is also a standout volleyball player and track athlete at LHS.  Mullens made the following statement on Twitter.
"I am so excited to announce that I have verbally committed to the Unversity of Missouri-Kansas City!  Thank you God for allowing me to meet amazing coaches who worked with me day in and day out.  Thank you to my wonderful family who has done literally everything for me to have this opportunity.  Thank you to my teammates for always pushing me to be my best.  Thank you to every parent or friend that has taken me to any game or practice.  I appreciate you all so much.  Also, I would like to say thank you to coach Jacie and the Roo family for believing in me and allowing me to be a part of such a great program.  Now it's time to grind!"
Mullens helped lead Liberal to a 22-1 season in her junior season.