M.J. Foster Sets School Record at State
Brock Kappelmann - October 30, 2022 10:16 am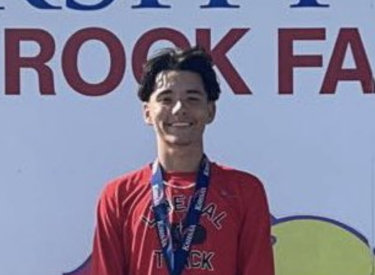 Marcus Calleja
LHS Cross Country Team competed at the state meet at Rim Rock this past Saturday. The boys and girls would finish on a high note to end their season with PR's on one of the toughest courses in the Midwest against the best competition.
LHS Boys would finish the meet with a 11th place finish as a team. Leading the boys was the once again the 2 junior boys in MJ Foster and Cesear Pavia. Pavia would finish 21st place with a time of 16:24 which is a 30 second personal best and just missing All-State honors by 1 spot. Foster would lead the way with a school record of 16:10 breaking the previous record of 16:20 set in 1999 and finishing 14th and making All-State honors.
LHS Girls would also finish the meet in 11th place as a team. Daniela Cerda was the leading the girls team with 27th place finish at 20:17 which is a season best. The next 3 runners of the team were not far behind her pushing each other throughout the race in Hallie West, Janaya Devorce, and Isabela Guiterrez all running at 21:50 or below.
Liberal junior M.J. Foster set the LHS school record at the 6A state meet in Lawrence on Saturday.  He ran the race in 16:10.3 to break Andrew Bird's 16:20 from 1999.  Liberal's boys and girls both sent their first teams to the 6A meet for the first time ever and qualified both teams to a state meet for the first time since 2014.  Here  LHS boys and girls both took 11th at state. Here are the results.
Team Scoring Summary
Final Standings
Score
Scoring Order
Total
1
SM-East
65
1-6-9-21-28(47)(65)
1:20:33
2
Olathe East
78
4-8-16-23-27(52)(62)
1:21:57
3
Olathe South
100
12-13-14-29-32(53)(74)
1:22:44
4
Gardner-Edgerton
112
5-20-22-31-34(36)(40)
1:23:26
5
Garden City
127
7-10-25-37-48(49)(58)
1:23:30
6
SM-North
170
2-17-26-55-70(71)(81)
1:24:18
7
Lawr Free State
173
18-35-38-39-43(64)
1:25:27
8
SM-Northwest
195
3-24-45-50-73(76)(79)
1:25:33
9
Dodge City
235
30-33-54-57-61(68)(83)
1:26:57
10
Washburn Rural
239
19-41-46-66-67(77)(78)
1:27:32
11
Liberal
242
11-15-69-72-75(80)(82)
1:27:28
12
Manhattan
252
42-44-51-56-59(60)(63)
1:27:20
Individual Results
Athlete
Yr.
Team
Score
Time
Gap
Avg. Mile
1
HAUGHTON, Wyatt
SR
SM-East
1
14:59.7
—
4:49.3
2
BLOMKER, Micah
JR
SM-North
2
15:12.0
12.3
4:53.2
3
BORN, Henry
SR
SM-Northwest
3
15:37.0
36.3
5:01.3
4
STEWART, Carter
SR
Olathe East
4
15:44.0
43.3
5:03.5
5
WALION, Parker
JR
Gardner-Edgerton
5
15:50.0
49.3
5:05.5
6
PTACEK, Blair
SR
SM-East
6
15:51.9
52.2
5:06.1
7
CHAPPEL, Devin
SR
Garden City
7
15:58.8
59.1
5:08.3
8
PAGADALA, Prabhav
SR
BV North
—
15:59.1
59.4
5:08.4
9
BARRON, Diego
JR
Olathe East
8
16:00.4
1:00.7
5:08.8
10
PETERS, Caden
SR
SM-East
9
16:02.8
1:03.1
5:09.6
11
MUNOZ, Kailyn
JR
Garden City
10
16:04.6
1:04.9
5:10.2
12
OLSEN, Brock
JR
BV West
—
16:09.8
1:10.1
5:11.8
13
SUMMERS, Noah
JR
OP-Blue Valley
—
16:10.3
1:10.6
5:12.0
14
FOSTER, M.J.
JR
Liberal
11
16:10.3
1:10.6
5:12.0
15
PLATH, Dylan
SO
Olathe South
12
16:13.4
1:13.7
5:13.0
16
BRECHLER, Ty
SR
BV West
—
16:13.5
1:13.8
5:13.0
17
DOHERTY, Conner
JR
Olathe South
13
16:13.8
1:14.1
5:13.1
18
NORRIS, Jacob
SR
Olathe Northwest
—
16:15.0
1:14.3
5:13.5
19
LARSON, Max
SO
SM-South
—
16:19.6
1:19.9
5:15.0
20
MEOLI, Bennett
SR
Olathe South
14
16:22.1
1:22.4
5:15.8
21
PAVIA, Cesar
JR
Liberal
15
16:24.4
1:24.7
5:16.5
22
BEAUCHAMP, Jake
SR
Wichita-Southeast
—
16:24.8
1:25.1
5:16.6
23
SON, Ryan
JR
Wichita-East
—
16:25.9
1:26.2
5:17.0
24
VEGA, AJ
JR
Mill Valley
—
16:30.3
1:30.6
5:18.4
25
OCHANA, Ethan
SR
Olathe East
16
16:32.3
1:32.6
5:19.0
26
ROJAS, Diego
JR
SM-North
17
16:35.5
1:35.8
5:20.1
27
WOHLER, Blake
JR
Lawr Free State
18
16:37.2
1:37.5
5:20.6
28
JOHNSON, Davin
SR
Washburn Rural
19
16:43.0
1:42.3
5:22.5
29
KILONZO, Nick
JR
Gardner-Edgerton
20
16:44.1
1:44.4
5:22.8
30
WHITTINGTON, Evan
JR
SM-East
21
16:47.4
1:47.7
5:23.9
31
LEACH, Andrew
SR
Gardner-Edgerton
22
16:48.2
1:48.5
5:24.2
32
THOMPSON, Caleb
FR
Olathe East
23
16:48.3
1:48.6
5:24.2
33
MITCHELL, Evan
SR
SM-Northwest
24
16:49.2
1:49.5
5:24.5
34
NEMECHEK, Hayden
SO
Garden City
25
16:49.7
1:50.0
5:24.6
35
CHAPMAN, Gage
SR
SM-North
26
16:50.9
1:51.2
5:25.0
36
THOMPSON, Evan
FR
Olathe East
27
16:51.4
1:51.7
5:25.2
37
GIBSON, Rowan
JR
SM-East
28
16:51.5
1:51.8
5:25.2
38
BURKHOLDER, Cole
SR
Olathe South
29
16:52.1
1:52.4
5:25.4
39
LAMAS MEJIA, Danny
SR
Dodge City
30
16:56.2
1:56.5
5:26.7
40
KOSGEI, Ray
SR
Olathe North
—
16:56.7
1:57.0
5:26.9
41
SCHERMAN, Aidan
SO
Gardner-Edgerton
31
16:57.2
1:57.5
5:27.1
42
KUHL, Jackson
SR
Olathe Northwest
—
17:01.0
2:00.3
5:28.3
43
BLOOM, Brody
SO
Haysville-Campus
—
17:01.5
2:01.8
5:28.4
44
BURNS, Tyler
SR
Olathe South
32
17:02.1
2:02.4
5:28.6
45
ULTREAS BENITZ, David
SR
Dodge City
33
17:03.3
2:03.6
5:29.0
46
ELSEY, Jackson
SR
Gardner-Edgerton
34
17:06.4
2:06.7
5:30.0
47
HANSEN TERRY, Zach
JR
Lawr Free State
35
17:06.4
2:06.7
5:30.0
48
ROMAN NOSE, Edward
FR
Lawrence
—
17:06.7
2:07.0
5:30.1
49
HALTON, Cade
FR
Gardner-Edgerton
36
17:08.0
2:07.3
5:30.5
50
KLISH, Xavier
SO
Lawrence
—
17:09.0
2:08.3
5:30.9
51
GURROLA, Evan
SR
Garden City
37
17:11.1
2:11.4
5:31.5
52
FRYE, Jonah
FR
Lawr Free State
38
17:11.7
2:12.0
5:31.7
53
WILLS, Cristian
JR
Lawr Free State
39
17:12.6
2:12.9
5:32.0
54
FALKNER, Robert
SO
Gardner-Edgerton
40
17:14.7
2:15.0
5:32.7
55
DIAL, Easton
SR
Washburn Rural
41
17:15.9
2:16.2
5:33.1
56
MAZIN, Andrei
SO
Manhattan
42
17:18.4
2:18.7
5:33.9
57
WHITTLESEY, Ryan
JR
Lawr Free State
43
17:18.9
2:19.2
5:34.0
58
SPIEGEL, Jack
SO
Manhattan
44
17:19.5
2:19.8
5:34.2
59
VOLK, Easton
SO
SM-Northwest
45
17:22.3
2:22.6
5:35.1
60
FINK, Grayson
SR
Washburn Rural
46
17:23.6
2:23.9
5:35.5
61
NORRIS, William
JR
SM-East
47
17:24.9
2:25.2
5:36.0
62
FRY, Trevor
FR
Garden City
48
17:25.5
2:25.8
5:36.1
63
CASTRO, Taran
SO
Garden City
49
17:25.7
2:26.0
5:36.2
64
TOMAC, Carter
SO
SM-Northwest
50
17:26.5
2:26.8
5:36.5
65
ARNOLD, Anderson
SR
Manhattan
51
17:27.5
2:27.8
5:36.8
66
WHEATLEY, Brendan
JR
Olathe East
52
17:28.0
2:27.3
5:37.0
67
THIELE, Jonah
SR
Olathe South
53
17:30.1
2:30.4
5:37.6
68
JUAREZ RAMOS, Brandon
JR
Dodge City
54
17:31.6
2:31.9
5:38.1
69
MONTAGNE, Gavin
JR
SM-North
55
17:32.1
2:32.4
5:38.3
70
GROGG, Kolby
SR
Manhattan
56
17:32.2
2:32.5
5:38.3
71
SALINAS MILLAN, Eddie
SO
Dodge City
57
17:32.2
2:32.5
5:38.3
72
BENOIT, Evan
SO
Wichita-East
—
17:33.2
2:33.5
5:38.6
73
TATAR, Dallas
SO
Junction City
—
17:34.3
2:34.6
5:39.0
74
WEILERT-BEYMER, Lawson
SR
Garden City
58
17:34.9
2:35.2
5:39.2
75
MILLS, Silas
SR
Manhattan
59
17:41.8
2:42.1
5:41.4
76
HOLDREN, Lucas
JR
Manhattan
60
17:43.5
2:43.8
5:41.9
77
CLINE, Carter
SO
Mill Valley
—
17:50.2
2:50.5
5:44.1
78
CHRISTOPHER, Michael
SR
Topeka High
—
17:52.8
2:53.1
5:44.9
79
VAZQUEZ, Angel
JR
Dodge City
61
17:53.6
2:53.9
5:45.2
80
GIEM, David
SR
Olathe East
62
17:54.2
2:54.5
5:45.4
81
HILTON, Aidan
JR
Manhattan
63
17:55.8
2:56.1
5:45.9
82
MASON, Ethan
JR
Lawr Free State
64
17:56.8
2:57.1
5:46.2
83
JOYCE, Jack
JR
SM-East
65
18:02.2
3:02.5
5:47.9
84
KELLER, Hayden
JR
Washburn Rural
66
18:04.5
3:04.8
5:48.7
85
PILLING, Jackson
SO
Junction City
—
18:04.7
3:05.0
5:48.8
86
CAIN, Trevor
SR
Washburn Rural
67
18:05.1
3:05.4
5:48.9
87
BANUELOS APARICIO, Mathew
SR
Dodge City
68
18:05.5
3:05.8
5:49.0
88
AMPARAN, Daniel
SR
Liberal
69
18:05.7
3:06.0
5:49.1
89
PYE, Spencer
JR
SM-North
70
18:06.8
3:07.1
5:49.4
90
BARTON, James
SR
SM-North
71
18:09.7
3:10.0
5:50.4
91
HALLACY, Tynan
JR
Wichita-East
—
18:11.5
3:11.8
5:50.9
92
ORTEGA, Bryan
SR
Liberal
72
18:16.5
3:16.8
5:52.6
93
JUAREZ, Francisco
JR
SM-Northwest
73
18:18.0
3:17.3
5:53.0
94
FRANCE, Carter
SR
Olathe South
74
18:26.7
3:27.0
5:55.8
95
KOERNER, Alex
SO
Liberal
75
18:30.7
3:31.0
5:57.1
96
NOBLE, Mark
JR
SM-Northwest
76
18:30.8
3:31.1
5:57.2
97
OLSEN, Connor
SO
Washburn Rural
77
18:32.0
3:31.3
5:57.6
98
GUTIERREZ, Max
JR
Washburn Rural
78
18:32.3
3:32.6
5:57.6
99
O'NEAL, Ian
SR
SM-Northwest
79
18:47.0
3:47.3
6:02.4
100
VILLA, David
SR
Liberal
80
18:47.6
3:47.9
6:02.6
101
SCHWEIGER, Nathan
SO
SM-North
81
18:54.0
3:53.3
6:04.6
102
MORALES, Enrique
SO
Liberal
82
18:54.5
3:54.8
6:04.8
103
JIMENEZ, Isaiah
SR
Dodge City
83
19:39.4
4:39.7
6:19.2
LOOS, Jake
JR
Lawr Free State
—
DNF
—
MORALES, Sameul
JR
Liberal
—
DNF
—
NARANJO, Joaquin
SR
Liberal
—
DNF
—
MORGAN, Ken
SR
Gardner-Edgerton
—
DNF
—
POSTEL, Connor
SO
Gardner-Edgerton
—
DNF
—
ROHR, Bryson
SO
Dodge City
—
DNF
—
VAZQUEZ, Alexander
SR
Dodge City
—
DNF
—
VEGA, Alexis
SO
Dodge City
—
DNF
—
HLASNEY, Luke
SR
Olathe East
—
DNF
—
PETERSON, Luke
SO
Olathe East
—
DNF
—
SEFFENS, Timothy
JR
Olathe East
—
DNF
—
ADKINS, Aiden
SO
SM-Northwest
—
DNF
—
COOPER, Dylan
JR
SM-Northwest
—
DNF
—
PISCHKE, Mark
JR
SM-Northwest
—
DNF
—
DEAN, Stevie
FR
Lawr Free State
—
DNF
—
JOHNSON, Nicholas
FR
Lawr Free State
—
DNF
—
LICHAUER, Grant
SO
Lawr Free State
—
DNF
—
LAGUNA, Elian
SR
Liberal
—
DNS
—
GARREN, Marshall
SR
Manhattan
—
DNF
—
STARLING, Aidan
SR
Manhattan
—
DNF
—
WESCH, Wilson
FR
Manhattan
—
DNF
—
GURROLA, Uriel
FR
Garden City
—
DNF
—
ROMAN, Alan
JR
Garden City
—
DNF
—
BURDETTE, Ryder
SO
SM-North
—
DNF
—
EYTCHESON, Nick
JR
SM-North
—
DNF
—
RICHARDSON, Kaden
JR
SM-North
—
DNF
—
BAKER, Colin
SR
Olathe South
—
DNF
—
SWEARENGIN, Luke
FR
Olathe South
—
DNF
—
TROUT, Rylan
SO
Olathe South
—
DNF
—
DENMAN, Josiah
JR
Washburn Rural
—
DNF
—
KING, Bodie
SO
Washburn Rural
—
DNF
—
LEINWETTER, Anderson
SO
Washburn Rural
—
DNF
—
BROGHAMMER, Jack
SO
SM-East
—
DNF
—
IMM, Greyson
JR
SM-East
—
DNF
—
JONES, Walter
SO
SM-East
—
DNF
—

Team Scoring Summary

Final Standings
Score
Scoring Order
Total
1
Olathe West
46
3-8-9-12-14(18)(49)
1:35:59
2
SM-East
95
4-7-13-34-37(41)(52)
1:39:15
3
Washburn Rural
112
5-11-21-36-39(47)(67)
1:40:38
4
Olathe North
113
1-16-23-25-48(72)
1:40:15
5
Lawr Free State
132
10-15-29-38-40(43)(68)
1:41:48
6
Mill Valley
135
6-20-31-32-46(53)(70)
1:41:54
7
Olathe East
168
17-24-27-45-55(71)(75)
1:43:44
8
Garden City
180
26-28-30-42-54(74)(78)
1:44:33
9
SM-Northwest
200
2-35-44-59-60(63)(73)
1:44:32
10
Manhattan
245
19-50-51-61-64(65)(69)
1:47:22
11
Liberal
273
22-56-57-58-80(81)(83)
1:50:00
12
Dodge City
314
33-62-66-76-77(79)(82)
1:52:33

Individual Results

Athlete
Yr.
Team
Score
Time
Gap
Avg. Mile
1
HOCKER SINGH, Anjali
SO
Olathe North
1
18:17.1
—
5:52.7
2
MULLEN, Paige
SR
SM-Northwest
2
18:29.4
12.3
5:56.7
3
ROBINSON, Charis
SR
Olathe West
3
18:42.6
25.5
6:01.0
4
PADGETT, Lida
JR
SM-East
4
18:48.4
31.3
6:02.8
5
FINK, Payton
SO
Washburn Rural
5
18:53.5
36.4
6:04.5
6
CALDWELL, Charlotte
SO
Mill Valley
6
18:58.0
39.9
6:05.9
7
PEARLMAN, Scarlett
SR
SM-East
7
19:06.0
47.9
6:08.5
8
BAKER, Paige
SR
Olathe West
8
19:07.1
50.0
6:08.8
9
NEWPORT, Bree
JR
Olathe West
9
19:17.4
1:00.3
6:12.1
10
BURNS, Brylee
SO
Lawr Free State
10
19:20.0
1:01.9
6:13.0
11
CARTER, Madeline
SR
Washburn Rural
11
19:21.9
1:04.8
6:13.6
12
ALL, Sydney
FR
Olathe West
12
19:22.7
1:05.6
6:13.8
13
ERICKSON, Laya
SR
BV Northwest
—
19:22.9
1:05.8
6:13.9
14
GIBSON, Hannah
SR
SM-South
—
19:28.1
1:11.0
6:15.6
15
ACHEN, Jade
SR
SM-East
13
19:29.0
1:10.9
6:15.9
16
WILLINGHAM, Kalyn
JR
Olathe West
14
19:29.0
1:10.9
6:15.9
17
PIERCE, Lorna Rae
JR
Junction City
—
19:38.4
1:21.3
6:18.9
18
GOESER, Olivia
SR
Lawr Free State
15
19:42.1
1:25.0
6:20.1
19
JOHNSON, Shea
JR
Olathe North
16
19:46.8
1:29.7
6:21.6
20
GEHLEN, Ava
JR
Olathe East
17
19:47.0
1:28.9
6:21.7
21
MILLER, Kate
JR
Olathe West
18
19:59.5
1:42.4
6:25.7
22
HENNINGSON, Haley
JR
Manhattan
19
19:59.7
1:42.6
6:25.7
23
GOTFREDSON, Amy
JR
Olathe South
—
20:00.4
1:43.3
6:26.0
24
MCAFEE, Meghan
SO
Mill Valley
20
20:02.0
1:43.9
6:26.5
25
MURPHY, Brenna
SR
SM-North
—
20:10.5
1:53.4
6:29.2
26
ISMERT, Rylee
SO
Washburn Rural
21
20:16.6
1:59.5
6:31.2
27
CERDA, Daniela
JR
Liberal
22
20:17.9
2:00.8
6:31.6
28
KATZENBERGER, Cora
JR
Olathe North
23
20:18.3
2:01.2
6:31.7
29
SERRANO, Meredith
JR
Olathe East
24
20:20.1
2:03.0
6:32.3
30
ALLEN, Abby
SR
BV Northwest
—
20:20.4
2:03.3
6:32.4
31
CRUM, Makenzie
JR
Olathe North
25
20:20.9
2:03.8
6:32.6
32
WIESE, Cate
SO
Garden City
26
20:21.1
2:04.0
6:32.6
33
LORD, Emma
JR
Olathe East
27
20:21.6
2:04.5
6:32.8
34
SCHNEIDER, Kate
SO
Olathe Northwest
—
20:28.0
2:10.9
6:34.9
35
OROZCO, Samantha
SR
Garden City
28
20:28.8
2:11.7
6:35.1
36
HULA, Piper
SO
Derby
—
20:32.9
2:15.8
6:36.4
37
YORK, Brynna
JR
Junction City
—
20:33.2
2:16.1
6:36.5
38
MCGUIRE, Reagan
JR
Junction City
—
20:36.1
2:19.0
6:37.4
39
BARNES, Cayman
SO
Lawr Free State
29
20:36.6
2:19.5
6:37.6
40
SOSA, Jocelyn
SR
Garden City
30
20:37.5
2:20.4
6:37.9
41
LLOYD, Jenna
FR
Mill Valley
31
20:37.8
2:20.7
6:38.0
42
GILLISPIE, Alli
FR
Olathe Northwest
—
20:38.2
2:21.1
6:38.1
43
ROTH, Paige
FR
Mill Valley
32
20:48.3
2:31.2
6:41.4
44
GERE, Alex
SR
Dodge City
33
20:49.2
2:32.1
6:41.6
45
ALLEN, Ani
FR
Olathe South
—
20:53.5
2:36.4
6:43.0
46
DIVADEENAM, Rowan
SR
SM-East
34
20:54.0
2:35.9
6:43.2
47
KENNEDY, Natalie
SR
Lawrence
—
20:54.1
2:37.0
6:43.2
48
DAVIS, Lydia
JR
SM-Northwest
35
20:55.1
2:38.0
6:43.6
49
NOLTE, Brooklyn
SO
Washburn Rural
36
20:57.0
2:38.9
6:44.2
50
BLEDSOE, Mae
SO
SM-East
37
20:57.6
2:40.5
6:44.4
51
PRô, Isabelle
JR
Lawr Free State
38
20:58.8
2:41.7
6:44.8
52
VANDAVEER, Emily
SR
Olathe South
—
21:01.4
2:44.3
6:45.6
53
BETANCOURT, Brittney
FR
SM-North
—
21:04.2
2:47.1
6:46.5
54
TRONSTAD, Vilde
FR
Washburn Rural
39
21:08.4
2:51.3
6:47.8
55
BARNETT, Greta
SO
Lawr Free State
40
21:09.9
2:52.8
6:48.3
56
GAHAGAN, Lauren
JR
SM-East
41
21:13.1
2:56.0
6:49.3
57
ORNELAS, Alexa
JR
Wichita-North
—
21:17.6
3:00.5
6:50.8
58
GUEVARA, Natalie
SO
Garden City
42
21:17.8
3:00.7
6:50.9
59
CORMANEY, Elle
SO
Lawr Free State
43
21:18.5
3:01.4
6:51.1
60
ROBERTS, Zoe
SO
SM-Northwest
44
21:23.9
3:06.8
6:52.8
61
JACKSON, Calianne
SR
Olathe East
45
21:25.8
3:08.7
6:53.4
62
HICKMAN, Laura
SO
Mill Valley
46
21:27.5
3:10.4
6:54.0
63
LASTER, Sydney
JR
Washburn Rural
47
21:30.5
3:13.4
6:54.9
64
FRENCH, Ava
JR
Olathe North
48
21:31.3
3:14.2
6:55.2
65
BROWNING, Liz
SO
Olathe West
49
21:31.5
3:14.4
6:55.3
66
SALMANS, Saylor
SR
Manhattan
50
21:36.8
3:19.7
6:57.0
67
SNIDER, Avery
SR
Manhattan
51
21:37.5
3:20.4
6:57.2
68
SWAN, Chloe
FR
SM-East
52
21:39.6
3:22.5
6:57.9
69
VERDICT, Kynley
JR
Mill Valley
53
21:44.3
3:27.2
6:59.4
70
MENG, Avery
SR
Garden City
54
21:47.6
3:30.5
7:00.4
71
BARNES, Erin
FR
Olathe East
55
21:48.7
3:31.6
7:00.8
72
GUTIERREZ, Isabela
SO
Liberal
56
21:48.7
3:31.6
7:00.8
73
WEST, Hallie
SR
Liberal
57
21:50.1
3:33.0
7:01.2
74
DEVORCE, Janaya
SO
Liberal
58
21:50.2
3:33.1
7:01.3
75
SAKATI, Sidra
JR
SM-Northwest
59
21:50.2
3:33.1
7:01.3
76
HORNER, Sophie
JR
SM-Northwest
60
21:52.9
3:35.8
7:02.1
77
GAUL, Regan
SO
Manhattan
61
21:53.2
3:36.1
7:02.2
78
MCCORMICK, Emma
FR
Wichita-Southeast
—
21:54.7
3:37.6
7:02.7
79
MONTES VAZQUEZ, Delia
SO
Dodge City
62
22:00.9
3:43.8
7:04.7
80
LANG, Avery
JR
SM-Northwest
63
22:07.4
3:50.3
7:06.8
81
GOERING, Caris
FR
Manhattan
64
22:14.3
3:57.2
7:09.0
82
INGRAM, Ally
SR
Manhattan
65
22:15.9
3:58.8
7:09.5
83
MARTINEZ-LANDA, Teressa
SR
Dodge City
66
22:18.3
4:01.2
7:10.3
84
GUTIERREZ, Christine
SR
Washburn Rural
67
22:22.3
4:05.2
7:11.6
85
VELASCO, Britney
SO
Wichita-East
—
22:22.5
4:05.4
7:11.7
86
QUILEZ JARDI, Daniela
SO
Lawr Free State
68
22:23.7
4:06.6
7:12.0
87
MOORE, Ruby
SO
Wichita-East
—
22:25.0
4:07.9
7:12.5
88
COOK, Audrey
SR
Manhattan
69
22:25.6
4:08.5
7:12.6
89
ANDERSON, Sarah
JR
Mill Valley
70
22:30.5
4:13.4
7:14.2
90
GUYER, Haley
FR
Olathe East
71
22:39.1
4:22.0
7:17.0
91
BLACHLY, Niah
SO
Olathe North
72
22:39.7
4:22.6
7:17.2
92
FREEMAN, Valyrie
SR
SM-Northwest
73
22:42.3
4:25.2
7:18.0
93
TORRES, Chelsea
SO
Garden City
74
22:46.8
4:29.7
7:19.5
94
GE, Michelle
JR
Olathe East
75
22:51.8
4:34.7
7:21.1
95
PABLO, Rofina
SO
Dodge City
76
23:36.2
5:19.1
7:35.4
96
HERRERA, Emilia
FR
Dodge City
77
23:48.0
5:29.9
7:39.2
97
SEKAVEC, Riley
SO
Garden City
78
23:59.7
5:42.6
7:42.9
98
DUARTE HERNANDEZ, Nayeli
JR
Dodge City
79
24:04.2
5:47.1
7:44.3
99
CASAS, Jenny
JR
Liberal
80
24:12.8
5:55.7
7:47.1
100
CERDA, Ariana
SO
Liberal
81
24:22.7
6:05.6
7:50.3
101
HERNANDEZ, Daisy
SR
Dodge City
82
24:44.8
6:27.7
7:57.4
102
LUCENA, Sofia
FR
Liberal
83
24:48.8
6:31.7
7:58.7
GALAN, Haylie
SO
Liberal
—
DNF
—
ALVAREZ, Rubi
FR
Liberal
—
DNF
—
MANNING, Sierra
SO
Mill Valley
—
DNF
—
GARCIA, Angela
JR
Liberal
—
DNF
—
AVALOS MARTINEZ, Karina
SO
Dodge City
—
DNF
—
PABLO, Antonia
JR
Dodge City
—
DNF
—
VANROMPU, Mae
SR
Dodge City
—
DNF
—
BASHAM, Zoe
SO
Olathe East
—
DNF
—
MCROSTIE, Malorie
JR
Olathe East
—
DNF
—
NEDBALEK, Morgan
FR
Olathe East
—
DNF
—
BUSENITZ, Kate
FR
SM-Northwest
—
DNF
—
JUAREZ, Julia
SO
SM-Northwest
—
DNF
—
MOLES, Delilah
FR
SM-Northwest
—
DNF
—
KEMP, Aleia
FR
Lawr Free State
—
DNF
—
MORRISON, Neely
SO
Lawr Free State
—
DNF
—
TENBRINK, Addyson
FR
Lawr Free State
—
DNF
—
ANDERSON, Amelia
SO
Manhattan
—
DNF
—
FOBES, Madalyn
FR
Manhattan
—
DNF
—
INMAN, Brady
FR
Manhattan
—
DNF
—
HAGEMAN, Kiera
SR
Garden City
—
DNF
—
LOBMEYER, Anna
SR
Garden City
—
DNF
—
BREWER, Lily
SO
Olathe West
—
DNF
—
CLEMENTS, Laynie
SO
Olathe West
—
DNF
—
STIEDE, Jasmine
SO
Olathe West
—
DNF
—
HAZEN, Katie
JR
Derby
—
DNF
—
CHRISTENSEN, Marianne
SO
Washburn Rural
—
DNF
—
CHRISTENSEN, Megan
SR
Washburn Rural
—
DNF
—
DORZWEILER, Kailey
SO
Washburn Rural
—
DNF
—
JENKINSON, Claire
SO
SM-East
—
DNF
—
MCALISTER, Colleen
SR
SM-East
—
DNF
—
ROUDEBUSH, Maya
SR
SM-East
—
DNF
—
CLARK, Jenna
JR
Olathe North
—
DNF
—
MORGAN, Montgomery
FR
Olathe North
—
DNF
—
TROUP, Payton
JR
Olathe North
—
DNF
—
WAGONER, Brooke
SR
Olathe North
—
DNF
—
FIGGLE, Johanna
SO
Mill Valley
—
DNF
—
HAYES, Elly
SO
Mill Valley
—
DNF
—