Luna Tosses No Hitter as Saints Open KJCCC Play
Brock Kappelmann - March 10, 2023 7:12 am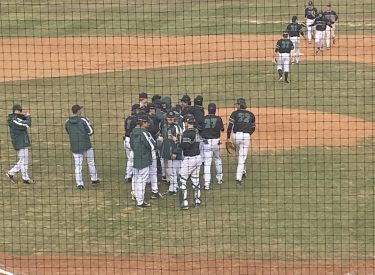 Brian Luna tossed a seven inning no hitter as the Seward County Saints opened their Jayhawk West season on a chili day Thursday at Brent Gould Field.  The Saints and Grizzlies split with SCCC taking game one 4-0 and Butler winning game two 3-1.
Game one was delayed one hour because the KJCCC had a rule that the wind chill must be 30 degrees or above.  Luna tossed the no hitter and struck out 15. It was Seward's first no hitter since Sam Berberich in a five inning game in 2021.  Tanner King tossed a seven inning no hitter at Redlands in 2019.  He walked four and hit two.  Seward out hit Butler 10-0.  The Saints offense finally broke through in the fifth.  Connor Cox singled to lead off the inning.  Cameron Cartwright laid down a sac bunt.  With two outs Elijah Bear singled home a run.  Jaxson Gregg singled.  Trenton Rowan laced a two RBI double to left center.  Jarron Wilcox lined an RBI single to right.   Tristan Curless and Elijah Bear were 2-3 in the win.
In game two, the Saints got another solid pitching outing.  Aidan Moore worked seven strong innings allowing two runs with six strikeouts and one walk.  Moore was the Epic Touch Player of the Game.  Butler scored three runs on eight hits and one error.  The Saints had one run on five hits and no errors.  The Saints did not commit an error in 16 innings of baseball.  The Grizzlies scored a run in the second and the fourth before taking on a run in the eighth.  Seward did not score until the ninth when Trenton Rowan doubled home a run.
Seward is 10-12 overall and 1-1 in the Jayhawk West.  Butler is 8-8 overall and 1-1 in the Jayhawk West.  The same two teams meet Saturday at 1pm with Saints Dugout Show at 12:45 on 1270 and 92.3.