Luke's Cool Hand Gives Liberal Rubber Game
KSCB News - June 14, 2015 7:21 pm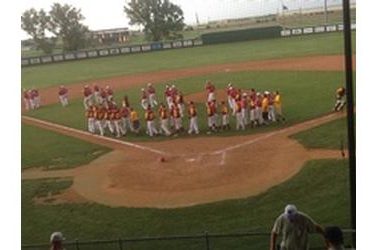 Luke Sherley was 0-5 with two errors when he came to bat with the bases loaded, one out, and a 5-5 tie with rain falling in the bottom of the 11th. But Sherley virtually erased a tough afternoon tapping a ball past the first baseman for a 6-5 win over the Derby Twins Sunday at Brent Gould Field. That's good for another series win.
Liberal struggled early with four errors in the first two innings helping the Twins to a 2-0 lead. The Bee Jays struck for three runs on four hits in the fourth. Gavin Wehby doubled home two and Bryson Allen singled home a run. Starter Matt Mihalski pitched four innings allowing five runs and three earned in the fourth helping the Twins to take a 5-3 lead in the fourth. Lefty Jarrett Gray pitched 5.3 scoreless innings striking out eight. Liberal scored a run in the fourth when Nick Brooks reached on an errors moved to third on a Wehby single, and scored on a wild pitch. The BJ's tied the game in the seventh when Jaylen Hubbard singled home Troy Labrie with two outs in the seventh to tie the game at five. Liberal had the winning run at third in the ninth and 10th but didn't score. In the 11th, they loaded the bases with one out when Sherley singled. Kadon Simmons pitched 1.6 innings scoreless for the win.
Liberal out-hit the Twins 10-9 but won despite five errors. The game was moved up to 3 p.m. due to the forecast of rain Sunday evening.
Liberal is 10-4 and 6-3 in the Jayhawk while Derby is 6-10 and 3-7 in the league. Liberal hosts Dodge City for a makeup game Monday night at 7 on 1270 and kscbnews.net. First National Bank is the buyout sponsor.