Luallen Named Girls Golf Coach
Brock Kappelmann - July 14, 2022 9:01 am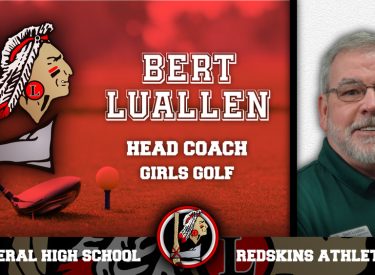 Liberal High School is proud to announce Bert Luallen as the new head girls golf coach at LHS. He played golf collegiately at Emporia State University after serving six years in the Navy.
"This year being the 50th anniversary of Title IX, I'm proud to have played a small part in the
advancement of women athletics. I'm very excited to have the opportunity to coach the Liberal
High School Girls Golf Team," Luallen said. "Having watched the team the past few years, I
believe there is potential for this program to improve and be competitive in the WAC. It will take
some time, but that's my first goal: to be more competitive in conference play."
Luallen has been coaching women's sports since 1987, when he began as the assistant
volleyball coach at the University of Central Oklahoma. Luallen holds the record for most career victories at two institutions: University of the Southwest in Hobbs, NM and Seward County Community College.
"Bert has the knowledge of the game and experience in coaching to help build the girls golf
program at Liberal High School. He has shown at the highest level that he can lead a program
for many years and I am looking forward to the progress he can make with the girls golf team,"
said Kerri Miles, LHS Activities Director.
Bert Luallen retired from coaching collegiate volleyball in 2015 after ten seasons at SCCC, with
456 career victories overall. As far as coaching golf, his experience has been mostly on private
golf lessons. As Athletic Director at University of the Southwest, Luallen enthusiastically
established the men's and women's golf programs.
"I look forward to helping each of the girls on the team to improve their individual golf skills,
helping them learn to love the sport as much as I do, and helping them learn the life-long
lessons gained through competition," Luallen said.
Golf practice will begin on August 15, 2022. There will be a Fall parent meeting on August 8 at
6:30PM in the main gym in which Coach Luallen will be available for a meet and greet. Girls
Golf will open their season on August 29th at Hays.