Lower Temps Slow Kan. Wheat Progress
KSCB News - May 27, 2010 12:00 am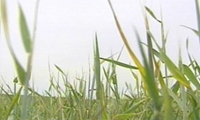 Cool weather and ample rain have slowed progress in the state's winter wheat crop.
Kansas Agricultural Statistics Service said Monday in its weekly report that 81% of the wheat has now headed. That is behind the 88% that would be average at this time in the season. About 3% has turned color.
Winter wheat condition was rated as 12% excellent, 52% good and 27% fair. About 9% was in poor to very poor condition.