Lopez and Coyos Two Time All Americans in ITA
KSCB News - May 27, 2015 7:19 am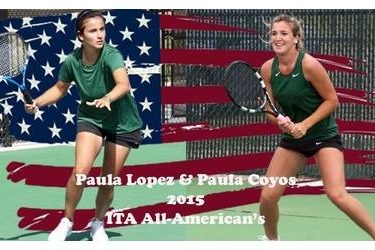 For the second straight year, Paula Lopez and Paula Coyos will pack a little bit heavier bag for their trips back home to Argentina as Tuesday, the dynamic duo was named ITA All-American's for the second straight year, the first time any Seward players have ever accomplished the feat. Lopez was named an All-American in both singles and doubles for the second straight season while Coyos picked up her second consecutive ITA All-American award in doubles.
Lopez finished her 2015 sophomore season ranked in the top five nationally in both singles and doubles, earning her dual All-American awards for the second straight season. She ended the year ranked 3rd in singles, right where she finished at the NJCAA National Tournament in #1 singles. Lopez finished the year ranked 2nd in doubles with Coyos, also the spot in which the pair ended up at the National Tournament in early May. Lopez was the Region VI Champion in both #1 singles and doubles this season, leading Seward to a 2nd place finish at the tournament. She was 60-6 as a sophomore with 4 of her 6 losses coming in National Semifinal or National Final matches. Her two year record at Seward finished at 124-19, far and away the most wins ever by a Lady Saints player.
Lopez's doubles teammate, Coyos, also earns her second straight ITA All-American honor in doubles. Coyos finished with Lopez as the 2nd ranked doubles pair in the country this season after finishing runner-up in both the ITA and NJCAA National Tournaments in doubles. Coyos and Lopez were 30-2 this season in #1 doubles action with their only two losses of the year coming in National Championship matches. The pair breezed to a Region VI Championship and didn't lose a single set in their run to the NJCAA National Championship match this spring. Coyos also just missed earning All-American honors in singles this season, finishing the year ranked 14th nationally and ranked 3rd in #2 singles. Her list of accomplishments at Seward is also a mile long after piling up a 113-20 career record for the Lady Saints, marking the second most wins in school history.
Roy Allen