Lofty Goals For Redskin Soccer in 2023
Brock Kappelmann - August 30, 2023 1:14 pm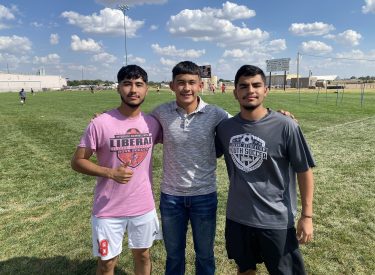 The Redskin soccer team aims to get back to their winning ways in 2023.  It seems like the season to do just that.  After going 8-9-1 but 5-3 and second in the WAC in 2022, Liberal has nine seniors and eight juniors draped in experience and motivation trying to drag the program back to the top of the WAC and the state.
The Redskins have 62 out for soccer and will again have three teams with a varsity, junior varsity, and C team.  Some of the key players are Jr. forward Suain Moncayo, Sr. center defense Geo Reyes, Jr. center MF Gessie Gonzalez, Jr. goal keep Gael Ruvalcabba, and Sr. forward Eric Garcia.  Moncayo netted 12 goals last year and was first team all WAC.  Eric Garcia was the second leading scorer last year and was 2nd team all WAC.  Seth Michel and Geo Reyes were second team all WAC.  Reyes suffered a knee injury in the last game on 2022 but is ready for the start of his senior season.
This is year three  for head coach Carlos Ruiz who stepped in for legendary Lori Navarro after Navarro was 9-4 in her last season of 2020. The program started in 1998 and compiled a 291-97-14 record with 22 winning seasons in the first 23 seasons. The Redskins have won the Western Athletic Conference 13 times, including 11 in a row. Liberal won the state in 2011.
The Redskins were featured during Sportsguys Wednesday morning.
Schedule
August 31- Great Bend
September 4- at Wichita South
September 6- South Titan Classic
September 9- South Titan Classic
September 12- at Dodge City
September 14- at Dodge City
September 21- Lamar
September 22- Bishop Carroll at Garden City
September 23- Kapaun at Garden City
September 28- at Hays
October 3- Garden City
October 5- Hays
October 13- Dodge City Sunflower Showdown vs. Blue Valley Southwest
October 14- Dodge City Sunflower Showdown vs. Shawnee Mission South
October 17- at Great Bend
October 19- Dodge City
October 23-28- Regionals
October 31- Quarterfinals
November 3-4- State