Local church gets creative to impact the community. Their method? Teddy Bears
Calen Moore - September 27, 2023 12:35 pm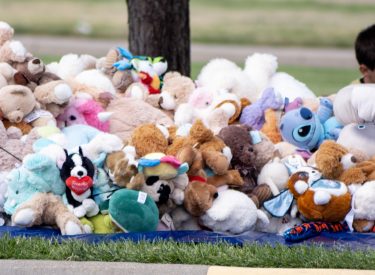 Church attendance has been declining since 2019 in America, but that does not stop small-town churches from finding creative ways to serve their communities. Religious organizations like churches fill in the gaps left by the lack of social services, like providing food, clothing, or in this case, teddy bears. 
LIBERAL, Kansas – After raining all Sunday morning, the sun sneaked in through the clouds just in time to reveal a tower of teddy bears stretched taller than the building it stood in front of on the lawn of First Southern Baptist Church.
The church asked the community to help them make history and build the world's tallest tower of teddy bears, which would then be donated to local organizations that serve children facing difficult situations like sickness, foster care, and homelessness. 
Mark Cress, Pastor of the church, said it started with the desire to get his church out into the community more. 
"We wanted to get into the community more and we thought, what if we did something really meaningful and lasting to make an impact on the community," Cress said. "Everyone can get on board with loving, serving, and helping kids in need." 
The tower was constructed by zip-tying the teddy bears donated by church members and members of the community to a chain suspended 60 feet in the air. The church staff eventually ran out of room and had to start another tower, making it 90 total feet and approximately three feet in diameter.
What makes the teddy bear so significant? For Cress, he understands the power and comfort of stuffed animals, being an adoptive parent with his wife, as well as a foster parent.  
"My wife Katie and I have adopted our kids out of foster care, so we know what the teddy bear or stuffed animal means to these kids," Cress said. 
Cress's oldest child, Gavin, age 16, still has his bear from his adoption at the age of six years old. He gently pointed at some of the wear and tear his bear received in the last 10 years. He held up the bear and said its name was January.
"I named him that because I was adopted in the month of January, so it meant a lot to me when I was younger," Gavin said. 
Gavin and his siblings hung on to their teddy bears as mementos of difficult times they had been through, but also a way to frame the future. 
"We want these teddy bears to be reminders for these kids, not only that someone cares for them but also that the worst days and seasons in their lives don't last forever," Cress said. 
For small communities in rural areas, social services can be underfunded or undervalued, leading to insecurities for food, housing, or utilities. A lot of community-serving organizations partner with churches to fill some of those gaps. 
Church attendance has been declining since 2019. Although protestant churches make up 96 percent of the religious composition in Kansas, more protestant churches have been closing than opening since 2019. Despite this, religion is a major part of rural life, half of all churches in America are in rural areas. This makes churches a critical source of social services, charities, and emergency services for small-town populations.
Jeremy Harris, worship pastor at FSBC said the tower exceeded his expectations. The church staff reached out to organizations in the southwest Kansas area to ensure a need for the stuffed animals and set up the process to follow through on the donations of the bears. 
"We made many contacts before starting this endeavor to agencies around the area to make sure that the plan would actually meet a need and be a blessing," Harris said. "We are now in the process of contacting them again to set up times to distribute the bears."
With food pantries, donations, and community-centered projects, churches aid nonprofit social services that may have less access to people and funds.
"We live in a world with so much division and strife that getting to do something that brought unity and cooperation was great," Harris said.