Local athlete loses battle with cancer
KSCB News - February 6, 2009 11:13 am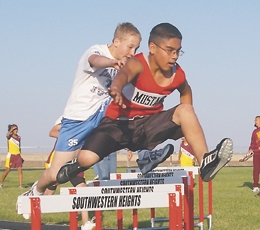 Sigala running trck at SWH. He also plays football and basketball.
Thirteen year old Tony Sigala of Kismet lost his short battle with cancer passing away Friday morning in a Wichita hospital. Sigala had been diagnosed with a rare form of cancer and had spent the past several weeks in the hospital.
The news of the death has saddened the area as numerous fundraisers are being held to help the family.
Sigala was an 8th grader at Southwestern Heights and participated in many athletic events.
An autopsy will be performed on Monday. Funeral arrangements are pending.
© Copyright KSCB News