Littell Joins Wichita State Coaching Staff
Joe Denoyer - April 20, 2022 10:52 am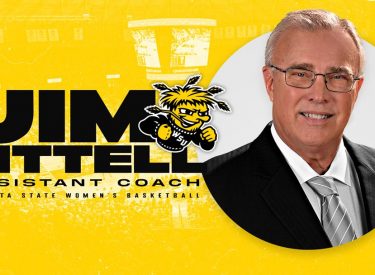 WICHITA, Kan. – Keitha Adams has named longtime friend and mentor, Jim Littell, as an assistant coach.
With 17 years of Division I coaching experience and more than 40 years total, Littell comes to Wichita State highly regarded in the profession. He joins the Shocker program after 11 seasons as the head coach at Oklahoma State. His resume includes six years as associate head coach at Oklahoma State (2005-11), head coach at Seward County Community College (1991-2004), head coach at Friends University (1983-87) and stints Garden Plain High School (1990-91) and Oxford High School (1978-83).
It was at Oxford High School where Adams and Littell first met. Adams was on the basketball team at Oxford where she played for Littell, and the two have maintained a close friendship throughout the years.
"Today is an amazing day as we welcome Coach Jim Littell to our staff," Adams said. "I met coach when I was in the 6th grade. I had the opportunity to play basketball for him for five years. He's a proven winner and won everywhere he's been."
He compiled a 204-140 record in his 11 seasons as head coach of the Cowgirls. Littell is a two-time Big 12 Coach of the Year (2016, 2021), while leading Oklahoma State to six NCAA Tournament appearances, a WNIT title and seven Cowgirls achieved All-America status under his guidance.
In his decade-long stint as Oklahoma State's head coach, Littell's most decorated season emerged from the trying circumstances that 2020-21 presented. While navigating the COVID-19 pandemic, Littell guided the Cowgirls to a second-place finish in the Big 12 Conference behind a program-record 13 league wins. His peers took notice, naming him the league's coach of the year for the second time in his tenure.
"I've recognized coach many times in my career as being one of the key factors in my success," Adams said. "He's a great teacher of the game and a phenomenal person. Over the years Coach (Littell) and I have had many conversations about basketball and life. I've considered him a friend, mentor and family."
Littell took over the Oklahoma State women's basketball program under unthinkable circumstances one game into the 2011-12 season and admirably guided the Cowgirls through the most trying season in program history.
Following the tragic deaths of head coach Kurt Budke and assistant coach Miranda Serna on Nov. 17, Littell assumed the role of head coach and directed the Cowgirls to the 11th 20-win season in program history and saw his squad extend its school-record string of postseason appearances to six in a row.
For the previous six years, Littell had served as OSU's associate head coach and was an integral part in the resurgence of the Cowgirl program.
It didn't take Littell long to write his own chapter in the school's record books, leading the squad to the Women's National Invitation Tournament title in his first season as head coach.
As associate head coach, he was instrumental in the Cowgirls producing the nation's largest turnaround and the program's first NCAA Tournament berth in more than a decade in 2007. He also helped OSU to NCAA berths in 2008 and 2010 as well as WNIT appearances in in 2009 and 2011.
"Hiring Coach Littell is a unique and special opportunity for me and our basketball program. My journey with basketball started with Coach Littell and for us to have the opportunity to coach together at Wichita State is special. We got better today with this fantastic hire."
Prior to his move to the Division I level, Littell constructed a hall of fame career during his 14-year tenure at Seward County (Kan.) Community College,
A 2009 inductee into the National Junior College Athletic Association Hall of Fame, Littell compiled an eye-popping set of numbers at his former post as the Lady Saints won 87 percent of their games, tallying a 418-61 ledger and producing nine Jayhawk West Conference titles under his guidance.
A nine-time conference coach of the year, Littell was named the WBCA National Coach of the Year in 2001 and was selected as the top coach in the region on four occasions, earning the distinction in 1999, 2002, 2004 and 2005.
Littell led Seward County to its first Region VI title in 1999 and followed up with regional titles in 2002, 2004 and 2005. In both 2000 and 2001, Littell led the Lady Saints to a No. 1 ranking in the final NJCAA poll and a combined record of 32-0 against conference opponents. His 2002 squad produced three All-Americans, a perfect 38-0 mark and the school's first-ever national championship in any sport. He was named the NJCAA National Tournament Coach of the Year that same season. The 2001-02 season capped a three-year run by the Lady Saints that produced 104 wins against just two losses.
Under his watch, the Lady Saints recorded seven 30-win seasons. After finishing with a 14-16 record during his first season, Littell's squads never produced less than 25 wins in a season and averaged nearly 32 wins per year against less than four losses over the course of his final 13 seasons.
The most impressive number of all may have come in the form of Seward County's home record in his 14 seasons. From 1995-2004, the Lady Saints did not lose a home game, posting a 135-game winning streak inside the SCCC Activities Center to set the NJCAA national record. During the course of his final 13 seasons, Littell's squads won 99 percent of their home contests, producing an astounding record of 189-2.
Prior to his run at Seward County, Littell spent one season at Garden Plains High School, posting a 21-3 mark. As head coach at Friends University from 1983-88, he produced a 95-39 record and a pair of conference championships. He also served as the assistant men's coach at Cameron (Okla.) University from 1988-89.
Littell began his coaching career at Oxford High School in 1978 where he produced a 94-14 mark and a Kansas Class 2A state championship in 1981.
A 1977 graduate of Southwestern College, Littell and his wife, Barb, are the parents of two sons, Jerame, and Jon, a former standout for the OSU baseball team, as well as one daughter, Jaci. Jon and his wife, Lexie, welcomed the family's first grandchild, Linkyn Grace.