Liberal's Wesley Feeling Extra Lucky With Second Lottery Win
Joe Denoyer - January 29, 2019 1:46 pm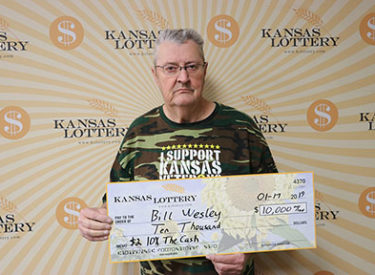 By: kslottery.com
Bill Wesley of Liberal has had quite a month. He won $25,000 in the Holiday Millionaire Raffle on January 3, and today he made the drive back to Topeka to claim a $10,000 he won on a $2 10X The Cash instant ticket!
"I've never been very lucky before, so this is pretty unexpected," said Wesley. "Hopefully I can keep this streak going! We don't mind the drive at all when it's to claim a big prize."
Wesley was trying to decide what game to play at the convenience store when he saw another customer playing the 10X The Cash tickets. "I bought one ticket and took it back to the car to scratch it off. The very first symbol I revealed was the winning symbol. I couldn't believe it, so I showed my wife and asked her to verify for me. We were both so surprised," Wesley said.
"We just bought a 2006 Corvette with the prize money from the Holiday Millionaire Raffle, so now I'm not sure what to buy with the winnings," said Wesley. "I may use it as a down payment on a new pickup or a motorcycle. We haven't decided yet."
The winning ticket was sold at Love's Country Store 24 at 208 West Pancake Boulevard in Liberal.