Liberal's Top Guns Preview NBC
KSCB News - July 27, 2012 3:47 pm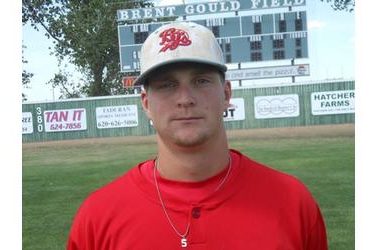 Two of Liberal's top guns and their head coach visited the Sportsguys Friday morning, one day before the NBC World Series begins at Lawrence-Dumont Stadium in Wichita. Right handed pitcher Chad Nack of UTA and Sanger, Texas and righty Dalton Bernardi of OCU and Choctaw, Oklahoma stopped by the studios along with head coach Brandon Kitch.
Nack is 4-2 with a 2.03 ERA with 30 strikeouts and 11 walks in 48 2/3 innings pitched. He will pitch Liberal's NBC opening game Saturday night at 7:30 against Omaha Strike Zone to begin the NBC World Series. The
Bernardi is a two way player who played for Kitch at Rose State and signed at OCU before redshirting this year. Bernardi is hitting .366 with one home run and eight RBI's to go along with six doubles and one triple. Bernardi also showed one of the strongest arms in the Jayhawk League in the outfield in right field. On the mound, he is 3-1 with a 3.38 ERA with 46 strikeouts and 28 walks in 45 and 1/3 innings pitched.