Liberal's NBC Struggles Continue
Brock Kappelmann - August 5, 2019 6:47 am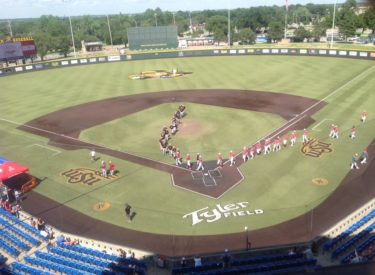 Liberal continued to struggle offensive Sunday afternoon at the NBC World Series.  The Derby Twins beat the Liberal Bee Jays 2-1 at Eck Stadium at Wichita State University.  Liberal plays their final game Tuesday afternoon at 1 vs. Lonestar, Texas baseball.  The BJ's are eliminated from bracket play.  Liberal continue to struggle at the NBC as they have lost seven of their last eight at the NBC.
After scoring 23 runs in two wins against the Kansas Cannons in the KCLB championship series, Liberal has two runs in two NBC World Series games.  Line drive outs and hard hit balls which went foul compounded Liberal's bad luck at the 85th NBC.
Bee Jay starter Riley Bost  pitched six solid innings allowing two runs but striking out 10.  Trevor Pruitt pitched two scoreless innings.
Derby scored a run in the first after a lead off walk, a bunt, and a single.  Liberal tied the game in the top of the sixth on an unearned run.  Tristan Stacy reached on an error.  Connor Emmet ripped a double down the left field line to score Stacy.  Derby took the lead in the bottom of the sixth on a double and single.  Liberal out hit Derby 5-4.  Derby had the game's only error.
Liberal loses two straight for a third time this season and falls to 28-14 while Derby is 27-17.  Liberal was eliminated from Wednesday's bracket play late Sunday night as Lonestar beat the San Diego Stars 6-5.  Liberal plays their final game with Lonestar Baseball Tuesday at 1 with the Dugout Show at 12:45 on 1270 and kscbnews.net.