Liberal's Mickens Signs at UMKC
Brock Kappelmann - May 2, 2019 6:53 am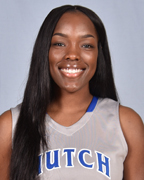 Liberal native and Hutchinson Community College Sophomore Jada Mickens announced that she is signing with the University of Missouri-Kansas City.
JADA MICKENS
Named a 2019 NJCAA honorable mention All-American, the 6-foot forward from Liberal became only the third Blue Dragon in team history to earn All-America honors in both seasons at Hutchinson. Mickens was an honorable mention selection as a freshman in 2018.
Mickens was Hutchinson's third-leading scorer at 11.0 points per game. She also averaged 6.2 rebounds and 0.86 blocked shots per game. Her 31 blocks were 10th in the KJCCC.
Mickens ranked third in the Jayhawk in field-goal percentage at 53.4 percent and tied Roebuck for seventh in the league in free-throw percentage at 79.2 percent.
The Blue Dragon forward had one double-double and posted a season high of 21 points at Garden City on Feb. 9. She had a season-high 13 rebounds in the NJCAA Tournament opener against Western Nebraska on March 18. Mickens posted career highs of 34 points and 20 rebounds – those performances were in different games – in her freshman season.
Mickens closed her Blue Dragon career ranked eighth on the all-time rebound list (517), sixth in career blocked shots (71), 11th in all-time free throws (171) and 16th on the career scoring list (854 points).
She is the third Blue Dragon to sign with UMKC, joining Emily Blakesley (2013) and Kara Lee (2014).