Liberal's Mettlen Signs at Oklahoma State
Brock Kappelmann - May 20, 2020 1:19 pm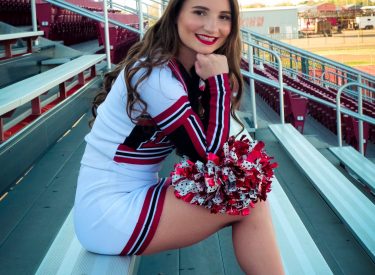 After being made two Big XII offers on Monday morning, Jensen Mettlen has accepted a position on the Oklahoma State Small Coed Cheerleading Team. Her journey to a D1 college cheer position came after an unprecedented spring season where she was unable to attend any tryout clinics in person and forced to handle all of her tryouts through video segments. The emails from Kansas State and Oklahoma State University came early in the morning of May 18th and left her with a decision to make. By mid-afternoon, she had chosen to go to NCAA National Champions Oklahoma State.
Jensen is a 3-time NCA high school All-American and a Top All-American. She is a 4-time varsity letterman for Redskin Cheer. Over her time in the program, she has led her team to multiple summer camp championships at OU and Emporia State and ultimately, two Top 5 finishes at KSHSAA's State Gameday Competition. She has been named Most Talented on the team for three years and received the Gaby Amparan Leadership Award her senior year, as well as serving as co-captain.
Jensen graduated in the Top 10% of her class and was also involved in Rowdy Crowd Club and Prom Committee at LHS. In her spare time, she enjoys attending dance and tumbling and teaching swimming lessons.
Jensen follows a growing list of Redskin Cheerleaders who have made Division I and Division II college level teams, including Fort Hays State, Emporia State, Wichita State, and Kansas State. She is the first Redskin Cheer graduate to sign as a freshman with OSU.
She is the daughter of John and Traci Mettlen.
Scarlotte Diseker