Liberal's McPhail Sets Record for FHSU
KSCB News - April 20, 2012 9:23 am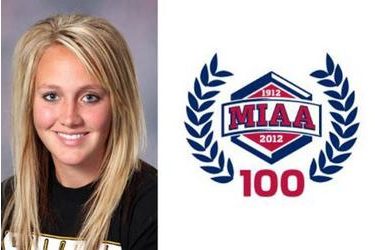 After being named the MIAA Women's Field Student-Athlete of the Week, Makayla McPhail continued her strong track and field season, breaking the stadium record at the CSU-Pueblo Combined Events & Invitational. McPhail and her FHSU track and field teammates traveled to both CSU-Pueblo in Pueblo, Colo. and the KT Woodman Classic, hosted by Wichita State in Wichita, Kan. this weekend (April 11-14).
McPhail, who last week earned MIAA Field Student-Athlete of the Week, broke the stadium record in the javelin throw in Pueblo. The sophomore from Liberal, Kan., threw 45.99 meters in the event, which is the third time McPhail threw an automatic qualifying mark in the event. McPhail's season-best distance came in the Alex Francis Classic, going 46.4 meters, which ranks third in Division II this season.
Two Tigers placed second at the CSU-Pueblo Invitational. Southwestern Heights product Holly Brown finished behind McPhail for second in the javelin throw with a distance of 40.72 meters, and Lori Wierich placed second in the discus, throwing 41.80 meters.
In Wichita, Kristen Fleharty led the way for the Tigers with a third place finish in the 100 meter hurdles, timing 14.28 seconds.
Three other Tigers placed in the top five in the events. Gentry Linscott finished in fifth in the 5,000 meter run with a time of 18:42. Anna Eigruber was fifth in the triple jump, going 39 feet, 3 inches, which is a provisional qualifying mark and ranks 17 in Division II. Gabriella Saravia also was fifth, jumping 5 feet, 4.25 inches in the high jump.
The Tigers now travel to the Kansas Relays on Thursday through Saturday (April 19-21) in Lawrence, Kan.