Liberal's Kruger is Coach of the Year on Sports in Kansas Website
Brock Kappelmann - March 23, 2020 6:28 am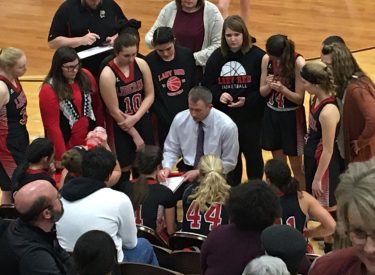 Congratulations to the 2020 Sports in Kansas Coach of the Year Honorees. Coverage is powered by American Implement, Nex-Tech Wireless, Seatbelts Are For Everyone (SAFE), Labette Community College, & Wheat State Elite. Voting for Coach of the Year is done by a statewide media vote of over 25 people in the media from every part of the state. Conor Nicholl and Chet Kuplen of Sports in Kansas finalize the selections after counting votes. 
Sports in Kansas Girls Basketball Coaches of the Year
6A: Carter Kruger, Liberal
Coach Carter Kruger continued his excellent success with the Liberal girls' program. Liberal posted back-to-back perfect regular seasons and finished 23-0 this winter. The Redskins held off Olathe South, 41-33, in the first round of the state tournament. South featured Missouri State signee Dani Winslow. Kruger was 52-41 as the Barton CC women's coach, and is 96-18 with Liberal. In the last four years, the Redskins are 85-8 with four straight league crowns, including a 68-3 record in the last three.
Kruger collected Western Athletic Conference coach of the year honors and had three players on the first team. Point guard Katie Horyna was league player of the year, and posts Machia Mullens and Aubrey Warden were first team picks.
Liberal had very similar overall efficiency numbers the last two years. In '18-19, the Redskins tallied 1.02 points per possession and allowed .586 points per possession. This year, Liberal was at .979 points per possession and .593 points allowed per possession. The offensive rebounding rate was 35 percent last year, 36 percent this year. The turnover rate was 23.3 percent of possessions last winter, 23.8 this season.
Warden became one of the state's most improved juniors and delivered eight points and 5.7 rebounds a game. Division II Newman offered a scholarship earlier this month. Sophomore Ashley Carrillo, after she missed all of her freshman year with injury, finished with 5.3 points, 3.3 rebounds and 3.2 assists.
Liberal finished as the No. 5 team in Kansas for all classes, according to MaxPreps with a strength of schedule rating of 8.5. The Redskins had one of the season's best non-conference wins with a 55-37 road victory at Olathe West on Dec. 13. OW won the Sunflower League, a conference that also included Olathe South.
Liberal to OW was 772 round trip miles, a very long distance for any Kansas school (in perspective, Bishop Miege's road trips to top competition in St. Louis and Fort Smith, Ark. Are both at least 194 miles shorter). Hugoton, Dodge City, Salina Central and Olathe West went a combined 0-6 against Liberal – and 62-17 (78 percent) against everyone else.
Special consideration also went to Topeka's Hannah Alexander. Topeka, with virtually all of its production from non-seniors, also finished 23-0 after a state runner-up finish last year. Topeka had a MaxPreps SOS rating of 4.5. Alexander had two of the state's best players in freshman Kiki Smith and sophomore Nijaree Canady.